IF I'M A B**** IN THE MORNING, I COME HERE, I DANCE, AND ALL OF THAT ENERGY IS RELEASED.
Sometimes you just need that one thing to help you snap out of whatever mood you're in.
It's not your fault- maybe your mind is clouded by that three-page grocery list you haven't touched since Tuesday, or that PTA bake sale you accidentally agreed to run, OR (my personal fav), the morning coffee that just made its way on your new blouse?
Bad days happen! But who says they're here to stay?
Our Dance With Me Glen Head student, Barbara Paskoff, sure found a way to kiss them buh-bye.
WATCH BARBARA'S WHOLE STORY BELOW, AND READ ON…
WHEN I LEAVE THE STUDIO IT'S A WHOLE DIFFERENT DAY.
She stumbled into her solution at a visit to her nutritionist's trophy-adorned office. Curiosity prevailed so Barbara had to ask, "What's the deal with the awards?!". Before she knew it, her nutritionist was off raving about the benefits of dance and urging Barbara to try it for herself. She tried a local dance studio but it just wasn't doing it for her. So one day she bumped into a friend who also danced, but at a Long Island dance studiocalled Dance With Me! Barbara simply replied, "What's a Dance With Me?"
Diagnosed with breast cancer in 2008, Barbara soon learned that "a Dance With Me" would become her place of escape. A place to to get out of her head.
WHEN I DANCE, I DON'T FEEL 71.
Dance quickly touched all parts of Barbara's life. As a 71 year old, it was the personal hobby she needed to keep her mind, body, and soul active. As a breast cancer patient, it was the mental distance she wanted from her emotions and fears.
When Barbara walks into Dance With Me, she leaves everything at the door and simply focuses on herself for a while. Around the studios we call her Barbie. Here she's among family, one that's committed to motivating and supporting her. None of her worries exist during a ballroom dance lesson. All that matters is the connection Barbara makes to her own body, and that she has FUN. After all, if you want to be the best version of you for your loved ones, you need to take care of yourself first.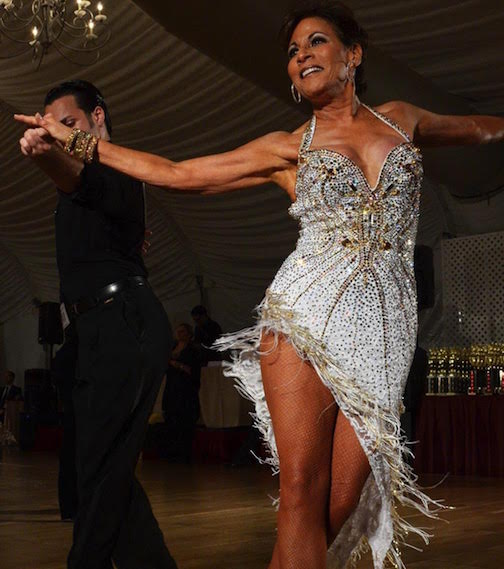 Dance became a breath of fresh air. It became Barbara's secret trick to feeling young. And it works! Stepping into the same room as her, you'd never guess her age. (I mean have you seen her…Barbie looks great!)
Dance wasn't something Barbara was geared to do throughout her life. It was new. It was exactly the challenge she needed.
A MOUNTAIN IS THERE TO CLIMB, NOT TO WALK AROUND.
Dance was Barbara's mountain and she decided to climb it. Taking on a foreign activity helped Barbara grow. It just goes to show, even at 71, you never stop learning and evolving. Barbara pushed her limits, made herself vulnerable, and as a result expanded her capabilities. The staff at Dance With Me was there every step of the way to provide support and balance, making the once scary idea of dance FUN.
Barbara is the first to say that she's not exactly a shy person…
But even so, she naturally felt nervous and self-conscious about dancing in front of people. These fears quickly dissolved as ballroom dance paved the way to  her confidence and presence. Dance With Me is not a place of judgement or criticism. Its a community of people committed to helping you better yourself. The instructors here enabled Barbara to "dance her way to happy."
She even overcame her 2 biggest fears! When her dance instructor urged her to compete in Miami, Barbara wasn't having it. She refused to fly and insisted competing is not what she came here to do.
Cut to a month later: Barbara's sitting on a plane grinning from ear to ear, feeling like a winner. She kicked her fear of BOTH flying and competing in front of people. And…if I may… she killed it at that competition!
DANCING IS ANYTHING AND EVERYTHING YOU WANT IT TO BE.
The best thing about dance is that it's different for everyone. Everyone makes their own connections to the music and creates a unique, personal experience.
Dance is what you need it to be. Go at your own pace. That's what Barbara did at Dance With Me, and in the process she found a safe place to be herself.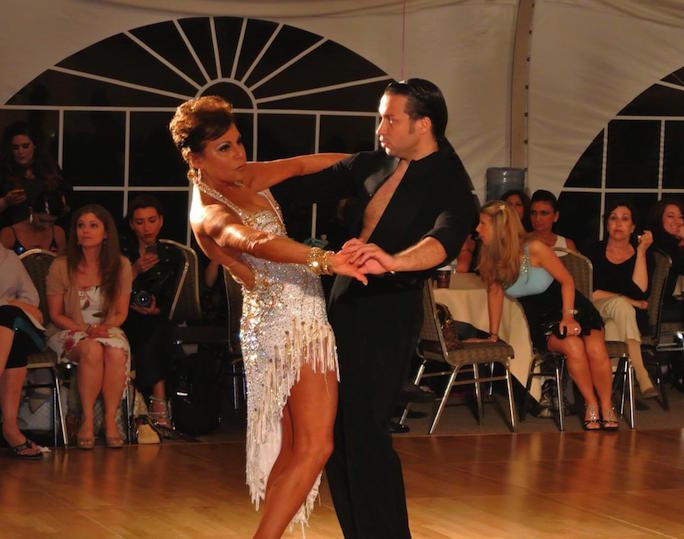 What did you think of Barbara's story? Give us your comments below!
And if you like this blog share it with a friend!