DANCING THEIR MOST MEMORABLE YEAR MADE FOR A MOST MEMORABLE NIGHT!
The ballroom soared with emotion as the stars tapped into their Most Memorable Year and embodied all its sentiments through dance, on week 3 of season 22 of Dancing With the Stars. 
We saw it all.
Success. Loss. Recovery. Travel. Love. Family.
Whether it was a year of happiness or hardship, the stars visually danced their stories,with movements so beautiful that we were left with goosebumps!
Catch up on ALL the tears, the smiles, the highest score of the season, and this week's elimination:
YOU'RE PROOF THAT ANYONE CAN DO ANYTHING IF THEY WANT TO.
Nyle and Peta deserve a major shoutout for earning the first 9 of the season! This strong duo tango-ed their butts off as they expressed Nyle's journey of self-discovery in 2012. After 20 years of growing up in a deaf family, Nyle took a chance and traveled alone for a year, without even a translator, to gain a different perspective on himself and his life. This raw experience tested Nyle's boundaries and pushed him to grow. Coincidentally, we saw the same thing unfold right before us as he took the stage last night. His keen and sharp moves had the judges raving at his "breathtaking ride of the tango." Nyle and Peta earned a deserving 25/30, the highest score of the night, AND of the season so far! There's no question that this pair is #redefiningdance for us all.
2013 proved to be Ginger's most memorable year as she found happiness in her husband, Ben, and the birth of their ADORABLE son, Adrian. Her career used to take a leading role in her life, until these two changed her world. Ginger and Val danced a gentle and loving contemporary piece to "Home" by Phillip Phillips. The song is close to this mama's heart- Ben hung its sheet music up in their first home. Ginger radiated joy out on the dance floor last night. Baby Adrian even made a cameo appearance (as did Val's man-bun)! The judges scored #TEAMGINANDJUICE 21/30.
THE MUSICALITY FLOWED THROUGH YOU!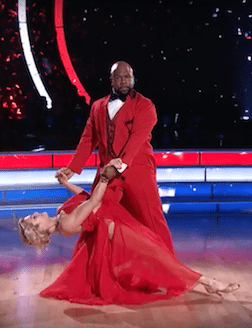 The closing ceremony of the 1996 Atlanta Olympics was a life changing moment for Boyz II Men singer, Wanya Morris. He took the stage with his brothers to perform the National Anthem, with close to a billion people watching (what!). Wanya and Lindsay evoked the intensity of that defining experience in their red, hot, and patriotic waltz. It was a sight to behold, that's for sure. Bruno declared that Wanya became the "rockets red glare",and the duo earned a 24/30.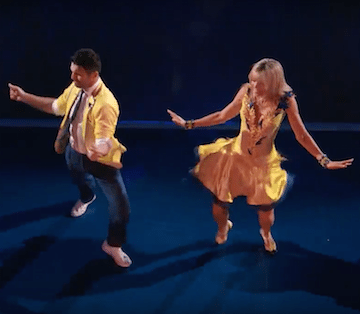 In bright yellow outfits and a pep in their steps, Tony and Marla fittingly danced to "Happy". 1993 was the happiest year of Marla's life because it was the year she gave birth to her lovely daughter, Tiffany Trump. As a single mom, Marla did something she never imagined she could do (similar to her daring ballroom dance journey). Her strong spirits and beaming energy made for a jolly jive that surely made her daughter proud…ya' know- along with the rest of America. The pair earned a score of 21/30.
There was so much we loved about last night's dances, but, as always, someone had to be sent home…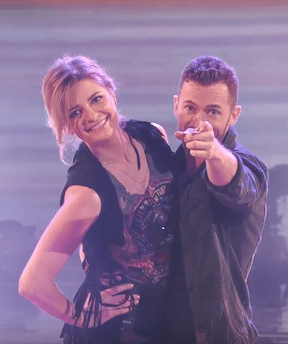 Misha Barton gave ballroom dance her best try, but last night she had to say goodbye. Luckily, this star left on a great note- her samba was her best dance yet! It was great to see Mischa have fun and finally let loose.
Below is a video of this blog translated to American Sign Language:
Want more of Dancing With the Stars: Season 22? Tune in next week to ABC at 8pm/7pm central to see what your favorite stars have in store!
(HINT: Next Monday is Disney Week!)
What'd you think of the 'Most Memorable Year' dances? Do you agree with Mischa's elimination?
Fill us in below! We want to know what YOU think!