"WHEELCHAIR BALLROOM DANCING OPENS COUNTLESS OPPORTUNITIES…"
Wheelchair Ballroom dancing  is known for countless physical and psychological benefits for the disabled, however not many people are aware that it can literally turn around someone's life.
Lindsay Tuman has been a performance arts dancer for over 20 years, but when she was introduced to Ballroom wheelchair dancing in 2013, she flourished, ultimately performing at various dance events, including DWM Summer Invitational andYankee Classic Championships.
"POSSIBILITIES BECAME ENDLESS!"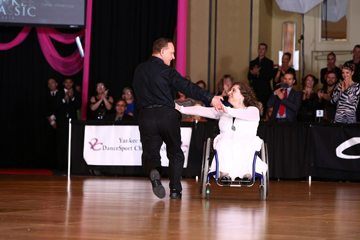 Being a professional dancer was always a dream of Lindsay's. She could've easily given up, but instead persevered and worked relentlessly to make it a reality. Read below about her wheelchair dance experience and how ballroom wheelchair dancing  was her tool to become alive again!
"My Name is Lindsay Tuman. I am 29 years old, born with Spina Bifida, a birth defect that prevents the spine from closing at birth, causing paralysis. Professionally, I am a licensed social worker in New Jersey working with individuals with disabilities helping them gain independent living skills to get back into the workforce.
My journey with dance instruction began in 1993, at 7 years old. I was fortunate to have the exposure. I had learned the fundamentals of dance at a school in Bergen County, New Jersey that allowed me to grow through the years into who I am today. The focus was on performance arts, dancing primarily with people with various disabilities as one group. I was then in a Dance Company that traveled throughout the East Coast showcasing individuals with disabilities and their ability to dance. Within the last few years, I started to notice my own growth, thriving for more opportunity.
I grew into adulthood with limitations I put on myself because of societies perceptions of capable people. It is often assumed that people in wheelchairs are unable to perform any task both physically and mentally. This became disheartening to me. I loved dancing and the freedom it gave me to move, however, there were so many things that I could NOT imagine doing. For example, I never thought I could dance at weddings, or public, social places. When I dance, however, I focus all my energy and attention to the music and movement, which allows me to escape this limiting world, and grow.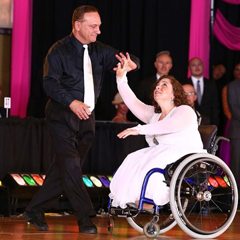 Twenty years after my initial exposure to dance, wheelchair ballroom dancing entered my life in May, 2013. Although I was hoping for something challenging to fuel my personal growth, it was the only experience that had fallen into my lap without me actually looking for it. I began to pray about having another door open in the dance world that I loved.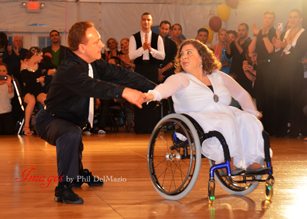 The NY Metro Abilities Expo, which I attended since 2011, was the beginning. A mutual friend, who knew I had been a seated dancers for 20 years, called me two days prior to the demonstration asking me if I was interested. I laughed on the phone and responded, "I don't do ballroom, I only know performance arts." What did I know about ballroom dancing? Not much.
Turns out, it would be the perspective, eye opening change I needed to continue developing my passion and talent. I met individuals from Roll Call twenty minutes prior to beginning the demonstration. The rest was history.
It's been said, "Life begins at the end of your comfort zone."Wheelchair ballroom dancing was the beginning of my new life in a world that allowed me to grow beyond my limitations. I took a leap of faith… and the net appeared. For that, I am thankful.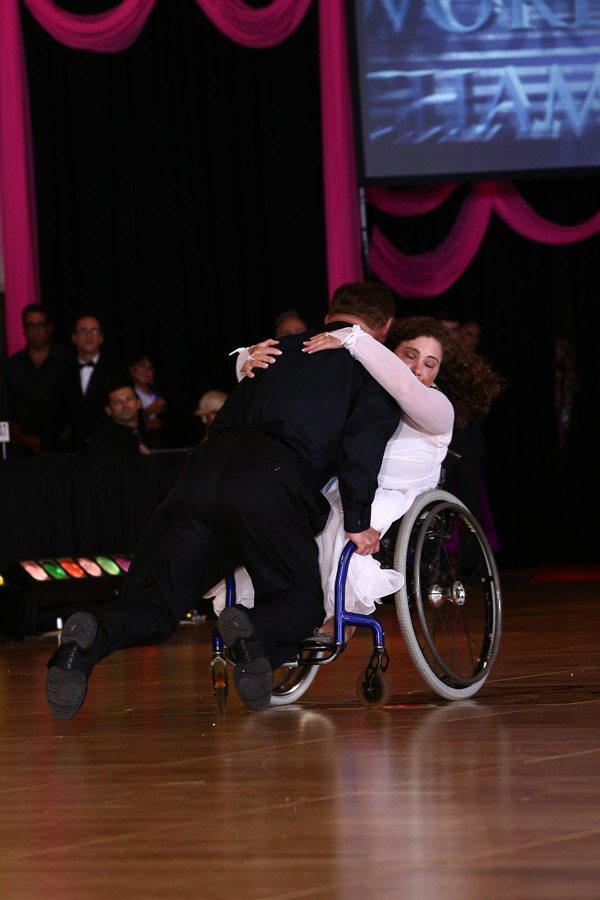 Roll Call Wheelchair Dance is an organization that I saw on a segment from ABC's 20/20 in January 2013 via a social media link . Watching the segment, emotionally, thinking to myself…"I can actually dance at my wedding one day?" I was ecstatic. Roll Call teaches individuals how to dance socially with standing partners. I knew I would continue from day one of meeting Diane Discepolo. In July 2013, I attended the first workshop with individuals from the community at the studio in Pearl River, NY. I began to understand the impact this would have on my life. John Nyemchek and Diane were the answer to my prayers. They both have hearts of gold.
One thing I can attest to: possibilities became endless! My confidence increased, the ability to dance with standing individuals without disabilities is perhaps the best feeling in the world. I advise everyone to take that same leap into this joyful activity. It opens a window with plenty of views; as it did for me. Any one can participate!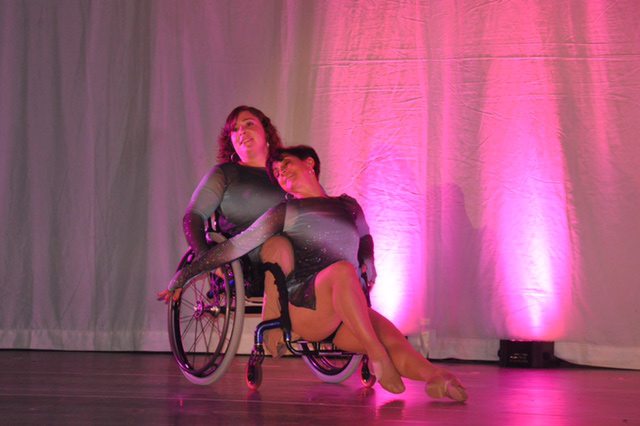 The limitations we put on ourselves will close our eyes to the opportunities in the world. If we have an open mind, experiences will begin to develop. The opportunities Roll Call has given for many are priceless. My first experience ever was dancing with John in front of dance professionals at the DWM Summer Invitational in 2013. It was breathtaking, and the beginning of profound possibilities. A priceless moment was dancing and talking to Maks and Val Chmerkovskiy. I told them about my experience with dance prior to being introduced to the world of Roll Call Wheelchair Dance.
Dancing at a professional level was always a dream. I knew I was was comfortable to dance, but then I stepped out of my comfort zone and went further. This is my personal testament in life, having courage for new experiences and opening the door without letting anything close that will. After all, I never saw myself writing this testimonial. I love to write about things I'm passionate about, and dance is at the top of the list.
To anyone reading this please take away the following message: The only disability that exists, is in your own mind. Take that leap of faith, even if it scares you. Have the courage to experience something new. "FOLLOW" your dreams… you never know where it might "LEAD.
Dance is my lifesaver."
———
WHAT DID YOU THINK OF LINDSAY  STORY AS A WHEELCHAIR BALLROOM DANCER? HOW DO THIS INSPIRE YOU?
TELL WHAT YOU THINK BELOW, AND DON'T FORGET TO SHARE!