"IF IT GIVES YOU JOY, THAT'S ALL THAT MATTERS."
WATCH CAROL'S TOUCHING STORY BELOW:
Dancing serves many roles in people's lives. Some take it up as a new hobby, while others enjoy its health benefits. Our lovely student Carol, of Dance With Me, Fort Lee, turned to ballroom dance when she found herself recovering from a very difficult time in her life. It eventually came to be a personal outlet that helped guide her through healing and reinventing herself.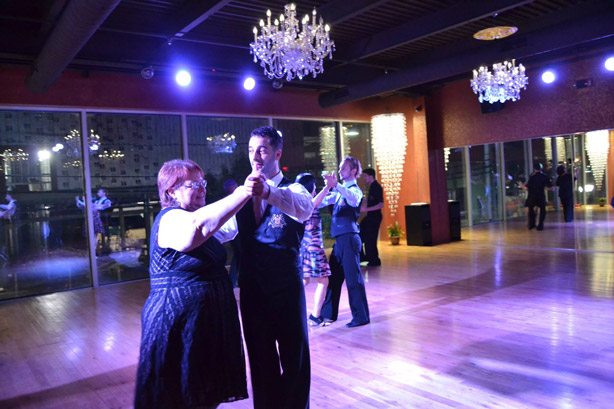 Unfortunately, Carol's husband passed away unexpectedly in 2013. The plans that they shared had suddenly changed, and she found herself unsure of her next step. Carol was looking for something to alleviate her worries and bring her joy again. Luckily, her son and daughter-in-law had an idea before Carol's untimely loss…ballroom dancing!
"DANCE HAS BEEN A MAJOR PART OF MY RECOVERY FROM GRIEF."
Carol decided to redeem her private ballroom dance lessons at Dance With Me, which her daughter had gotten for her before the passing of her husband. She had always put them off, but figured that now was as good a time as any to finally push herself to try ballroom dancing. It turned out to be one of the best decisions she could have made.
"IF I HAD A LESSON TO GO TO, IT MADE ME GET UP, GET OUT OF BED, AND GO."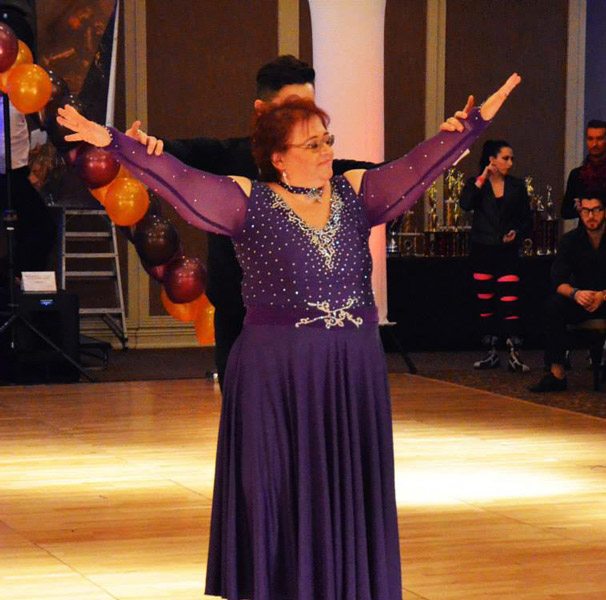 First and foremost, Carol was looking to laugh and let loose. Dance With Me provided her with a setting to do just that. She met wonderful students and instructors who shared her new hobby and helped to brighten her day. Carol was less focused on getting every step right, and more focused on the kindhearted and cheerful community she was now a part of.
To her surprise, ballroom dance also prompted Carol to expand her own boundaries and do things she would never have envisioned in the past… compete and perform on stage. Carol found trusted guides and friends within her dance instructors, and the security of knowing they were right there to catch her if she fell, motivated her to go for it. This new optimistic outlook spilled over to other parts of her life, as well. In time, Carol began taking voice lessons and even returned to her love of painting, something she hadn't had the time to do in over forty years.
"ALL YOU'RE GIVEN IS THIS MOMENT AND THIS MOMENT ALONE. SO IF YOU WANT TO DO SOMETHING, NOW IS THE TIME."
Ballroom dance paved the way to a growth in Carol that allowed her to take the time to learn about herself while doing something that made her happy. She shows us that we can't put off chasing our own dreams and goals. Like Carol, we should make the most out of this moment, because we never know what tomorrow will bring. It doesn't matter who you are, where you come from, or how old you are. If you have something you've been thinking about trying, you have to take that leap and go for it. You'll thank yourself later.
Oh and one more thing… don't forget to smile!
If you like the video, please take a second to share it with a friend.