TAP INTO YOUR FAVE ICON WITH 'GUYS VS. GIRLS' TEAM DANCES
Ever channel your inner Queen B to push through a long day? Turn on some Tina Turner when you catch yourself dozing off, right into your mixed greens salad?
Music is one of those things that can change our mood *snap* just like that-instantly.
And what's the ONLY thing better than the right song? The right moves.
On week 7 of Dancing With the Stars: Season 22, the stars danced to icons that we all know and love. Then the guys and girls squared up to see whose team dance could bring more heat!
Let's get right into it.
READ ON TO SEE WHO'S DANCE CAME OUT ON TOP…
Well since we're on this topic, Ginger's scores shot to the top of the leaderboard as she earned the first perfect score of the season! She and Val glided across the ballroom dance floor and embraced each other in a beautiful Viennese Waltz. They danced to Whitney Houston's iconic "I Have Nothing". Bruno pointed out their content, style, and interpretation, and deemed it impeccable. Not a shabby review. We couldn't be prouder of#TeamGinandJuice! Ginger said this dance brought her a feeling of love that spilled out without her having to reach for it. The feeling of dance is like no other.
Plot twist: Paige and Mark delivered another perfect score for the night! This dance had flaaavor, to say the least. Dancing a blazing jive in that red, fringe dress, it's no surprise that Paige lit the stage up. Her energy was contagious, and fittingly so considering she danced to Tina Turner's "Proud Mary"! Keep it up girl.
How about those group dances?
TEAM JAMES BROWN
The guys and their fierce partners joined forces to dance to a mashup of "Super Bad, Living In America, and I Got You(I Feel Good)" by the iconic James Brown. They all brought their own game, but worked together as a team to make this dance what it is! As a group, Nyle, Wanyá, Von, and Antonio received a 27/30.
TEAM BEYONCÉ
We were "Crazy in Love" with the girl's dance to some of Queen B's hits. They were fierce. They were powerful. And they were sexy. The ladies showed us that they're not to be messed with and only affirmed what we already knew- they're strong competitors in this dance competition. Ginger, Paige, Jodie, and Kim received a 25/30.
As fun as the night was, two people had to be sent home in the double-elimination: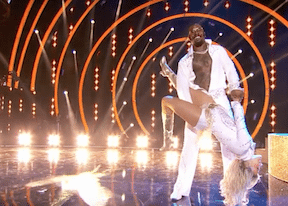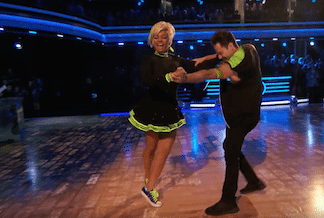 Von and Witney, and Kim and Sasha were eliminated last night. We hate to see these two pairs go, but they ended on such a great note!
We can't wait until next Monday! Tune in to ABC at 8pm/7pm central to see what your favorite stars have in store on Dancing With the Stars: Season 22.
What'd you think of Icons Night?! Whose Team Dance was better?
Fill us in below! We want to know what YOU think!