Are you looking to spice up your routine?
If so, a ballroom dance competition could be just what you need! Stepping into the competition scene is a great way to show off your skills, step out of your comfort zone(whether you're a beginner or advanced), and have tons of fun. Plus, you're not just honing in your moves but building confidence too! Competitions are a great way to make new friends and grow close ties in our ever-supportive DWM Family. So why wait any longer? From winning awards to meeting new friends, here are five reasons why you should participate in a DanceSport competition:
1. You'll take your dance skills and technique to the next level!
Competing can help refine your dance skills and push you to become a better dancer, whether it be ballroom, hip hop, or breakdancing. We all know every journey has its challenges— but competing can be an incredibly rewarding experience for those passionate about dancing. So, don't be discouraged if competing is intimidating at first – embrace it as an opportunity to grow, learn, and develop as a dancer!
2. It allows you to measure your progress and get feedback on your dancing.
Competing is a fun way to step out of your comfort zone and measure your progress. Your weekly lesson at the studio provide and comfortable and familiar setting for you to learn but you'll really put your knowledge to the test once you step into the spotlights of a Dance With Me Fam competition. Competing will help you identify areas where you need to improve, and provides an enjoyable challenge to push yourself and sharpen your skills.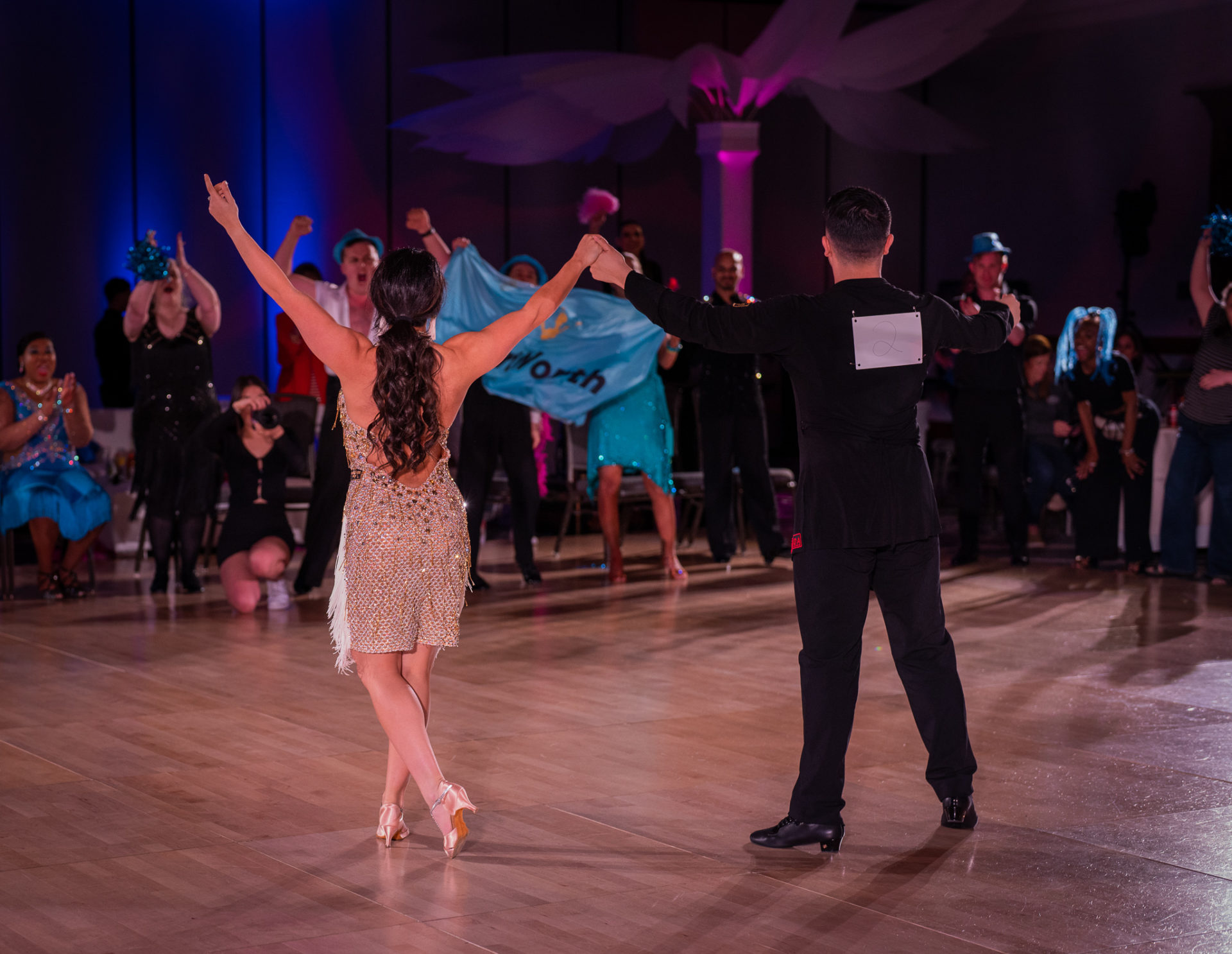 3. It's a lot of fun!
Remember those excited jitters you use to get as a kid right before a big recital, or school play? Let's face it, adulthood doesn't give most of us an opportunity to dress up, perform, and indulge in a round of applause and cheers. Competing in ballroom dance gives you a chance to express your passion and wow friends and family with your hard work. Pair that feeling with a beautiful competition gown or suit and hit the dance floor, there's nothing like it— you'll be unstoppable!
Competing creates lasting relationships between fellow dancers who have shared in this magical experience with you. Reap the benefits of your hard work and take your place on the podium!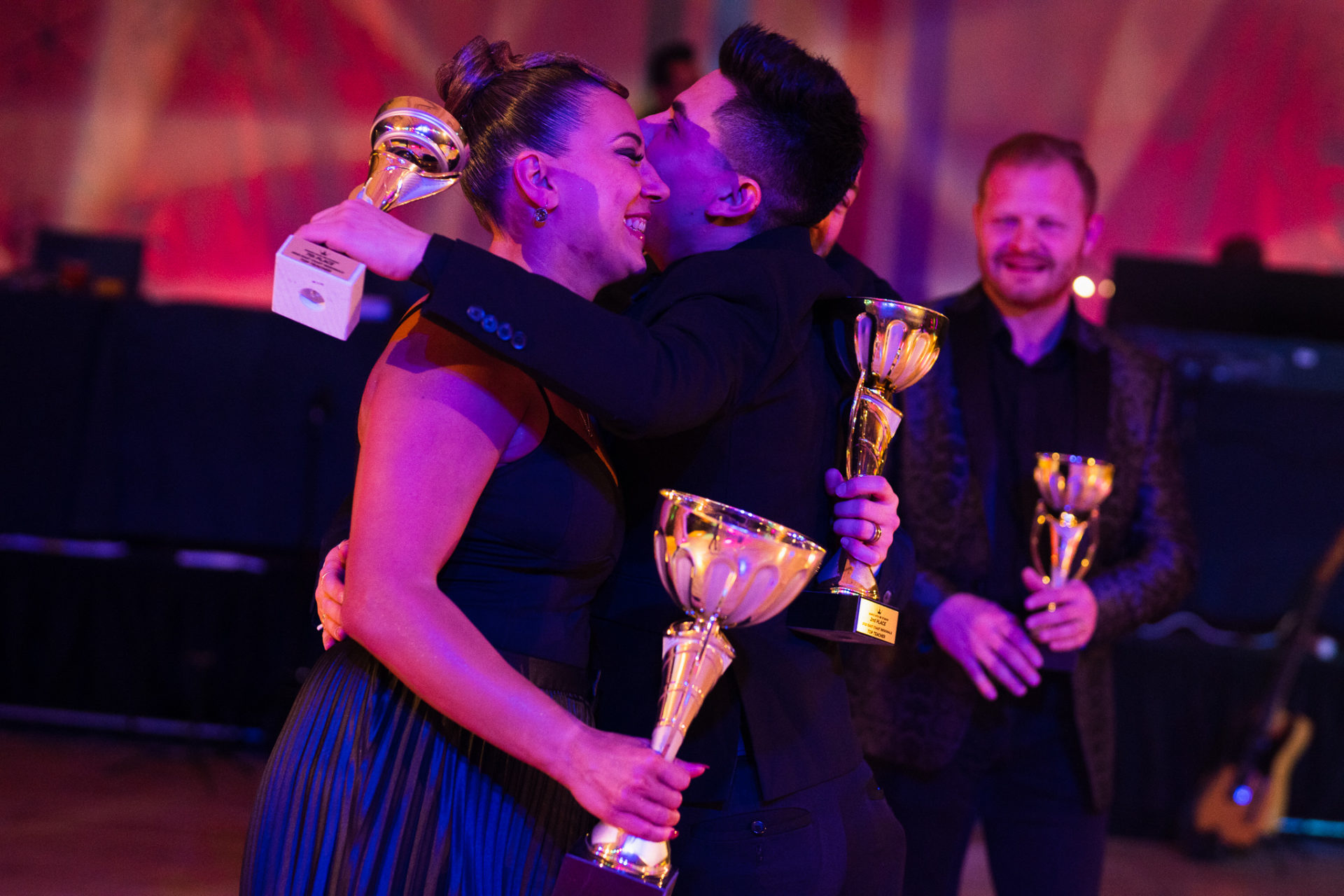 4. Competing builds your confidence and self-esteem.
There are few feelings as empowering and uplifting as dancing on a competition floor. When you step out onto into the spotlight – it's a feeling that'll have you on top of the world! If you're looking for something to boost both your dance skills AND self-confidence levels, give competing a go. As adults we don't often have the opportunity to push ourselves out of our comfort zones and discover new feelings and experiences. A ballroom competition is the perfect opportunity to discover or awaken the confidence that lies within each and every one of us!
5. You'll meet many dancers and make new friends!
If you love to dance, competing gives you a chance to find new friends who share that same passion. Our ballroom dancing community is full of warm and welcoming people - so much so that we created the acronym DWMFAM (Dance With Me Family)!
It's not just about showing off your skills on the floor…it's also about to having fun and getting to mingle with other dancers, while becoming part of a larger family. So if making connections is what drives you, competitions are totally worth it!
Ready to take your sweet moves out for a spin?
What are waiting for? There are plenty of awesome competitions just around the corner (see here!) Don't be shy – you'll meet other amazing dancers, get feedback that will help fine-tune your technique, and build confidence. Plus, it gives you a chance to shine under the spotlight! Give competing a try & trust us when we say you won't regret it. Break a leg!