The GOLDEN Mirror Trophy!
After an amazing 10th anniversary season that seemed to go by way too fast, America's votes combined with the judges' scores named Rumer Willis and Valentin Chmerkovskiy Dancing with the Stars season 20 CHAMPIONS!
The DWST season 20 finale was the perfect summary of the emotional and sensational season it has been. All three couples had moving performances in the epic two-night season finale. Monday night kicked off with re-do's and freestyle routines followed by their final dance on DWTS stage on Tuesday night. The total scores were calculated based on the judges Carrie Ann Inaba, Len Goodman, Julianne Hough, and Bruno Tonioliscores for the challenge and finals performances show, in addition to America's votes of course.
Season finale part 1 of 2:
Noah and Sharna:
Noah and Sharna opened the night with a redo of their Argentine Tango performance from week 3. It was a rough start for Noah, he experienced some difficulties with one of the hard lifts but overall all judges agreed that there were improvement in Noah's performances and that he came a very long way since he started dancing on the show.
Score: 32/40
Riker and Allison:
Captain Jack sparrow came back to DWST stage again and this time the routine was flawless. Riker seemed a lot more in control and not rushed this time around. We all know Jack Sparrow is one of his favorite characters and boy, he was in character alright, keeping the accent throughout the post-dance analysis and judges feedback.
Score: 40/40
Rumer and Val:
A phenomenal re-do of their very first routine from week 1 gives the judges no choice but to give the couple a perfect score. Val and Rumors foxtrot routine was so pure and organic that  the judges unanimously agreed that the couple is "dancing royalty" for sure.
Score: 40/40
Freestyle routines: 
As for the second part of the night, all three couples have performed exceptionally well for their freestyle dances. This part of the show had audience members "feeling some type of way," as the young kids say. Noah had one of his best comebacks and showed the judges and audience how touching his performances can be. I don't think there was a single person who was not inspired watching Noah's routine.
Riker and Allison had another exciting, high-energy, and fun performance. They brought a new twist to the show with their contemporary style and combination of dance genres. This dance was a signature Riker/Allison routine, and they nailed it. Like Julianne said "It was a true freestyle!"
Rumer and Val's freestyle embodied what their partnership and style represents. It was organic, pure, and classical. Bonus points for singing on the song that she danced to. It was an ideal ending for an impassioned first night.
Grand Finale Night
The DWTS action-packed Grand finale night was like no other, starting with a number choreographed by the famous Mandy Moore, followed by a serious of the best performances of the whole season. Stars like LMFAO's Redfoo, model Charlotte McKinney, Duck Dynasty's Sadie Robertson and Fresh Prince of Bel-Air's Alfonso Ribeiro all participated in quick fun routines throughout the night.
Tony Dovolani and Suzanne Somers also came back to perform one of their best performances to "Copacabana", I think we all remember how heated this routine is!
Out of all the returning stars, Patti LaBelle was definitely the most exciting to watch! It wouldn't be a grand finale without Mrs. Patti performing her urban-themed salsa routine at the club with Artem. Another star who made an appearance on the DWTS stage is Amy Purdy with her partner Derek Hough. The couple share the stage with Noah and Sharna in a very heart-rendering number. I think the journey of Noah and Amy is not only inspirational for other dancers but for anyone who has to overcome adversity achieve their goals.
The action didn't end there!  The appearance of Jason Derulo, Fifth Harmony, and Patti LaBelle were just what the night needed to exceed the audience's expectations. Jason Derulo sang his new single, Fifth Harmony performed a new track called "Worth it" and Patti LaBelle didn't only dance with Artem but also added another performance and sang "2 Steps Away".
For their final performances, the three couples had to perform a "fusion routine" that they only had 24 hours to prepare for.
Noah and Sharna:
A fusion of the cha-cha and Argentine tango by the couple to "Surrender" by Cash Cash, showed America how much of a hero and warrior Noah is, but the judges also couldn't help but compliment Sharna on the amazing choreography and partnership throughout the whole season. Bruno summed up the performance saying that they "Killed it!" and I agree, completely!
Riker and Allison:
The final performance by Riker and Allison was a mix of salsa and the quickstep that didn't just bring joy to conservative Len, but to the audience as well. The performance was the third perfect score by the couple in two nights. Bruno called him "a powerhouse performer" and Carrie Ann said he's "a superstar!"
Rumer and Val:
Saving the best for last!  A fusion of foxtrot and paso doble demonstrated the couples' passion and fire on stage for one last time. Rumer and Val left their signature all over that DWTS stage. Julianne had probably the most honest and encouraging comment saying that Rumer makes her want to be a better dancer. This was also the couples' third perfect score performance in two nights.
The second Runner-Up: Noah and Sharna! Noah admitted that he performed beyond his expectations; he thought he would only last for three weeks but he made it all the way to the finals.
As for our CHAMPIONS: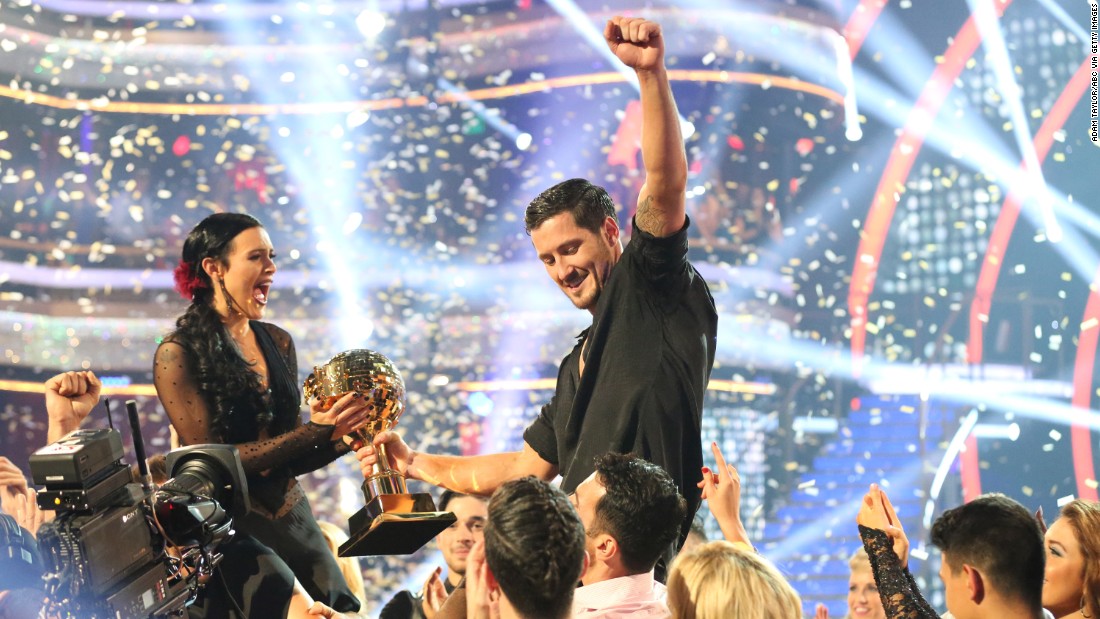 Val and Rumer's journey through Dancing with the Stars was simply magnificent. Rumer Willis taught us that we will never know what our full potential is until we try new things and take risks. She also taught us how important it is to believe in ourselves, regardless of what others think. Dancing didn't just make her more confident, but it made America fall in love with her, especially the message she sends to young females dealing with insecurities. Val was simply the ideal partner, genius choreographer, talented dancer, and caring coach that he is.  His partnership with Rumer and their success was built on trust, passion, chemistry and honesty, which was clearly displayed in all their performances!
Val and Rumer stole America's hearts, and the GOLDEN Mirrorball Trophy is very well deserved!
Now Maks and Tony can't tease Val anymore about not having a trophy…
Can't wait to see what next season brings!
Until next time….
WHAT DID YOU THINK OF THE FINALE? LEAVE YOUR THOUGHTS IN THE COMMENTS BELOW AND DON'T FORGET TO SHARE.