AMERICA WAS THE 4TH JUDGE…AND IT WAS A TOUGH ONE
Last night, our favorite show tried something its never done before! The stars compete with one another every week- that's a given. But this time, the judges mixed things up and created teams that battled it out between one another.
America had to step in as the 4th judge to keep the peace.
LEN VS. CARRIE ANN VS. BRUNO!
Whose dance do you think beat out the rest?
Read week 8's Dancing With the Stars: Season 22 highlights to find out:
Before we get to the team dances, can we just talk about Ginger and Val's sexy Argentine Tango? A usually bubbly Ginger showed us a side to her we've never seen. Donning a jaw-dropping black, lace dress, she delivered sharp moves, elongated lines, and a whole-lotta fierceness. The hot chemistry between these two was undeniable. Naturally, they got a perfect score. (I mean… come on)
TEAM BRUNO
Jodie, Keo, Nyle, and Peta repped Bruno with a passionate Argentine Tango. The judge's choreography included a same-sex section- something we're not used to seeing on the show. Every step was so intricate and the dynamic between these four dancers made for such an intimate dance. Not to mention, it was almost hard to grasp just how in-sync all those fast moving feet were! Len and Carrie Ann both gave it 10s while America deemed it a 9.
TEAM LEN
Work, work, work Señora! Len choreographed a sizzling samba for Wanyá, Lindsay,Ginger, and Val. The guys were set on an island and happened to stumble upon their lovely ladies. Their moves were fast and BOOMED with energy. Len even made a cameo appearance as the "Samba Caribbean King"! All around, this dance was just so much FUN. Again, Bruno and Carrie Ann gave it 10's while America gave it a 9.
TEAM CARRIE ANN
This one was intense. Carrie Ann choreographed a Paso Doble for Paige, Mark,Antonio, and Sharna that exuded physicality and strength. The set involved some obstacles with the powder that was used and the rain that came down on our dancers at the end. Antonio and Paige embraced each other in passionate turns and it became one of the best moments of the dance. YET AGAIN, Len and Bruno gave the dance 10's while America deemed it a 9. America's clearly a tough critic.
As for eliminations…
AMERICA'S SWEETINHEART WENT HOME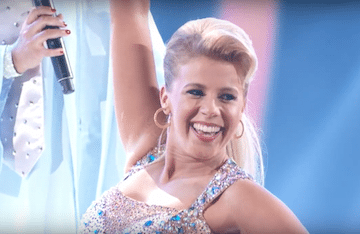 Even after a killer jive and a night of perfect scores, the lovely Jodie Sweetin was sent home. She and Keo left on the best note possible. We'll miss these two!
Next Monday kicks off the Dancing With the Stars: Season 22 semi-finals! We'll be seeing a double elimination so don't forget to tune in to ABC at 8pm/7pm central to see it all!
Did you think America was a harsh critic?! Who are you rooting for next week?
Fill us in below! We want to know what YOU think!