WATCH THE HIGHLIGHTS FROM SUMMER INTENSIVE 2016!
Most of us can agree that a good Saturday morning consists of a cup of coffee, a bite of bacon you've been resisting, and a read about the latest Hollywood scandal. It's okay…we're all guilty.
But how can we spice up our Saturday mornings?
You add some SUN and a whole lot of DANCE!
Summer Intensive 2016 was yet another high energy and fun event designed to help all of the participants not only learn new skills, but pick up tips on how to properly warm up, condition, and enhance their dancing.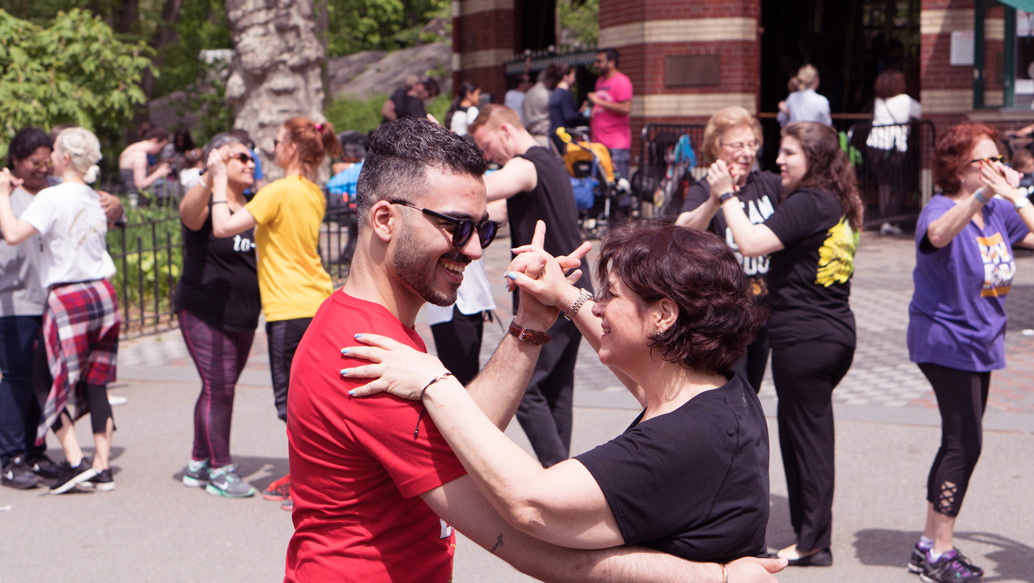 Our students and instructors kicked off their weekend bright and early on Saturday morning with session 1. Nothing screams summer (and summer body) more than making the most out of a beautiful summer day by being out and active in Central Park. The perks of doing it with Dance With Me? All your friends are already on board, plus you get to meet new people by sharing a common passion!
Sure you could be out jogging…alone…doing the same motion over and over, but that gets boring, and Saturday is NOT a day for boring. Wouldn't you rather move your hips a little? Our students definitely did.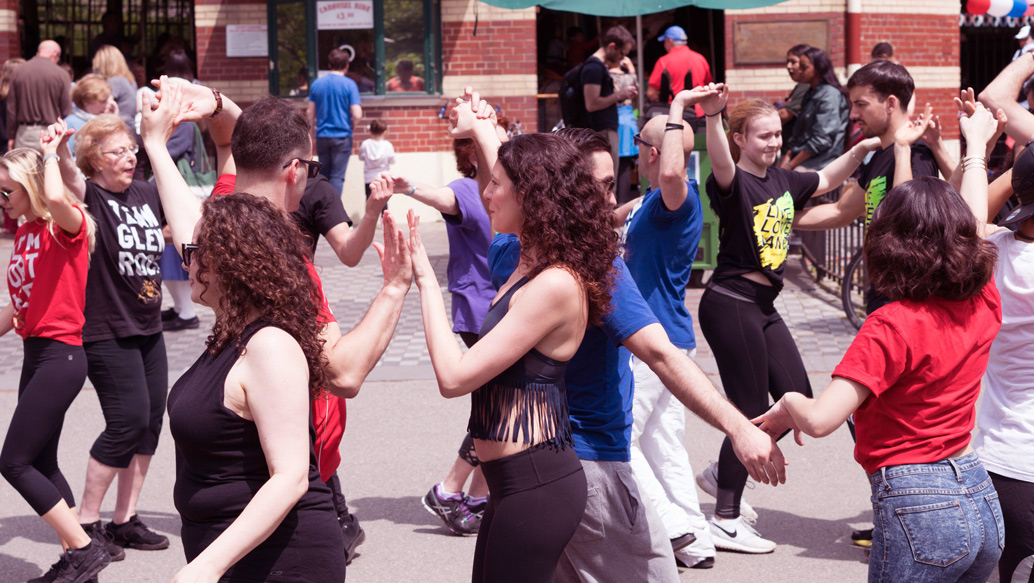 Luis led some warm up exercises that helped awaken the body, develop strength, and build stamina. It's pretty hard not to enjoy a nice morning exercise when you're in the midst of trees, chirping birds, and that refreshing touch of wind that hits you at the perfect time.
Who says dance is limited to a room? Definitely not us.
Add in the #DWMFAM pushing each other to keep at it, and you can't help but be motivated. Next up, Ronny held an amazing Argentine Tango lesson that taught us some of the most important fundamentals of this art. It really got our passion [fruit] juices flowing! Things heated up when Daniel and Mario taught a Salsa Rueda that had all the folks passing by wanting to join in.
Yes, yes, and yes. Sign me up!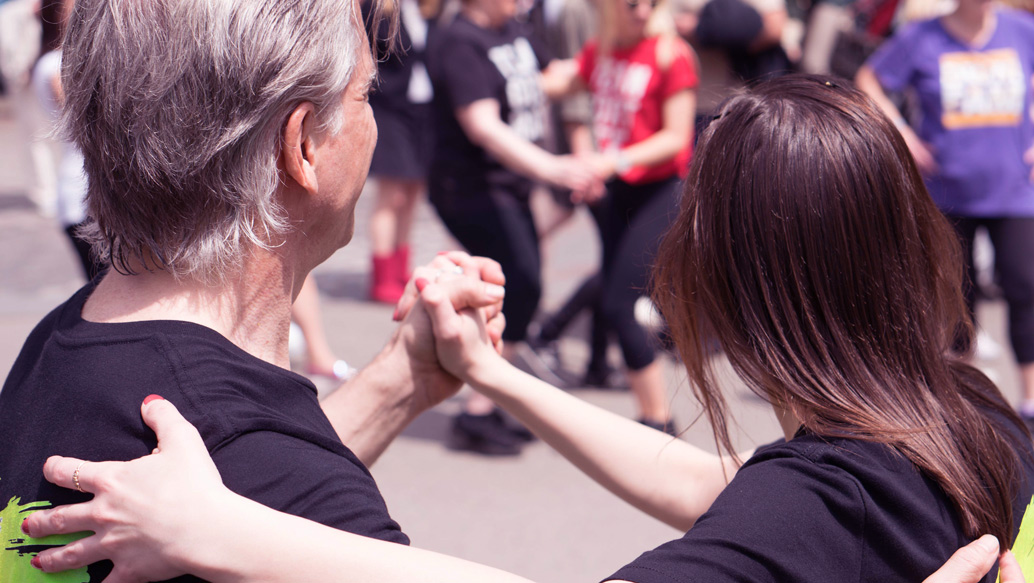 After a healthy lunch, we took the party over to Dance With Me Midtown for session 2 —  all about toning and conditioning! Our expert instructors explained how to optimize the body's movements to help trim down and tone up. Alona and David emphasized the importance of posture and positioning. Sasha and Klajdi helped the students with theirbalance and footwork. Finally, the session focused in on mechanics and timing, led by Ruzanna and Ivan.
It was super helpful to have multiple instructors in the crowd, giving guidance and step-by-step demonstrations. It gave multiple perspectives and a team effort to make sure everyone was on the same page.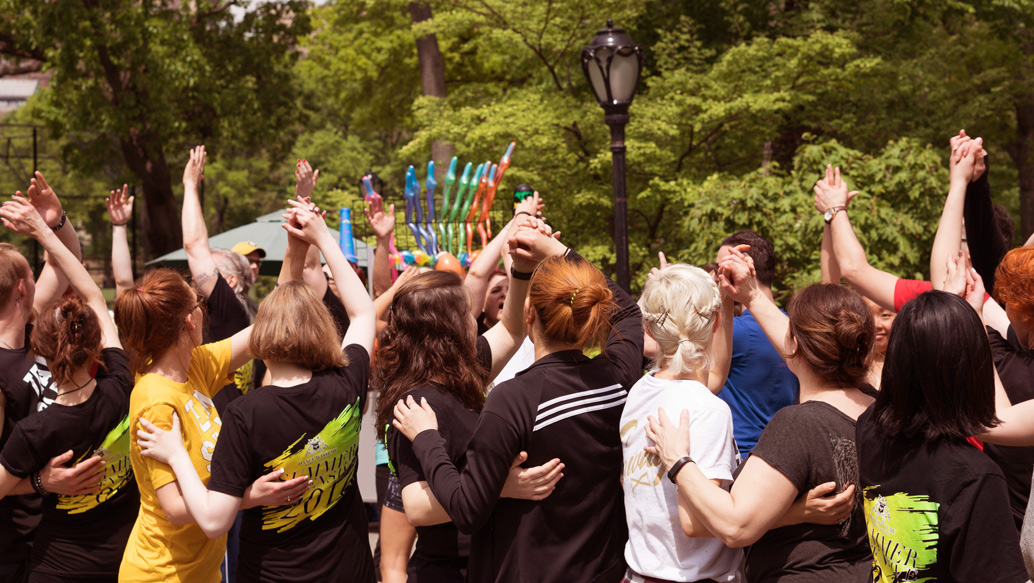 Session 3 jump started with Benito Garcia, one of our renowned resident coaches, demonstrating how to get better control of the body and its functionality, in order to prevent common injuries. He emphasized how to apply these strategies to also enhance mobility and flexibility. YES!
Finally, the Summer Intensive gave our lovely students a taste of some competition-style practice rounds. You should've seen the difference between the practice and the final round. We saw our students make a 360 in confidence and comfort. It took a second to get used to, but in no time everyone embraced the the ballroom floor and elongated their lines to really mark their presence. And obviously, we threw in some our our favorite songs to set the perfect mood!
All-in-all, DWM's Summer Intensive 2016 was a success! We had a blast doing what we love, surrounded by great people and a great setting!
Like what you see? Join us next time! By the time we're through, all of Central Park will be dancing with us.