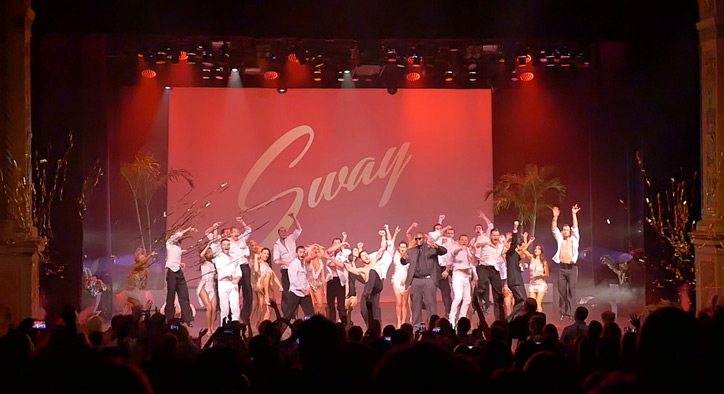 THANK YOU FROM MAKS CHMERKOVSKIY
TAKE A MINUTE TO READ THIS SPECIAL NOTE FROM MAKS CHMERKOVSKIY AND WATCH THE HIGHLIGHT VIDEO REEL FROM SWAY MIAMI.
Another year is coming to an end and on behalf of the entire Dance With Me and SWAY family, I would like to take this opportunity to thank you personally for making 2015 extra special!
It is almost New Year's eve and a few weeks after the latest installment of SWAY, so I decided to write a couple of things for y'all and show you an awesome video from SWAY Miami.
First of all…. WHAT A YEAR IT HAS BEEN!!!
Valentin brought home a mirror ball trophy, we packed out the world-famous Hammerstein Ballroom for three incredible SWAY shows, we added two more amazing locations to Dance With Me, and SWAY Miami during Art Basel was unbelievable… all for an amazing cause, ALFALIT.
Plus… I proposed to the most beautiful girl in the world making me the luckiest guy in the world  But enough about me…
Life is truly special, and with every challenge that it puts in front of us, it also gives us the chance to persevere and improve. But we cannot do it alone.
Everything we do, we do together, and none of it would be possible without the support of our incredible fans, students, and friends… YOU!
Every single person that shares the SWAY stage, or Dance With Me dance floor, is there because they're supposed to be there, because they share the passion and love for dance, life, and camaraderie. During every pre or post-show SWAY cast huddle I mention how fortunate I am to be surrounded by the right people.
So having said that, I want to express my gratitude and give a huge THANK YOU to each and every person who has been a part of this magical journey. I would not want to share one of the biggest moments of my life with anyone else, and we will forever remember the memories we made together.
We want to wish all of you a wonderful New Year filled with joy, prosperity, love, and celebrations with plenty of dancing.
Tomorrow we will toast to make it official, but in meantime, take a minute to watch this entertaining highlight reel from SWAY Miami. 
Yours truly,
Maks Chmerkovskiy and the Dance With Me Family
P.S. Please share this with you friends and family in case I missed someone! Thank you!