DISNEY NIGHT SPARKED THE KID IN ALL OF US!
It was a magical night indeed. Week 4 of Dancing With the Stars: Season 22 took us WAY back to the good ol' days of Goofy, Mickey, Tinkerbell…and sugar rushes.
The stars blew us away with performances fit for a Broadway show, as they embodied their favorite Disney characters.
What happens when you witness the ferocious King of the Jungle breaking it down, and a charming Cinderella's ball that has you dancing along with your living room lamp, ALL IN ONE NIGHT?!
THE HAPPIEST PLACE DANCE FLOOR ON EARTH
It was almost too much to take in.
Get your look at all of last night's magic:
Firstly, our girl Zendaya made a guest appearance on the judges' panel for Disney night. She was a contestant herself back on season 16 of DWTS and came runner up with our very own, Val. It was fun having her back!
Wanya's samba made a R-O-A-R. He took the stage with an extra fire in him. Motivated by Nyle's 9 in the previous week, Wanya shot for his own and proved who the King of the Jungle is. This Boyz II Men singer tapped into his inner Mufasa, while Lindsay evoked a strong lioness.  With the drive, power, and fierceness this storm of a lion-lioness duo brought, it's no shock that they earned a 35/40!
P.S. Wanya is a whole 22 pounds down only 4 weeks into his ballroom dance journey! GET IT.
Ginger and Val pretty much put on a mini-production with their rendition of Beauty and the Beast. There were dancing villagers, a fountain, an amazing foxtrot, and us at home thinking about ways to sneak into the scene. Ginger's moves earned her a 36/40, the highest score of the season so far! This mama's clear and smooth steps proved she's a serious competitor, and marked her spot as Belle of the Ball. Val unleashed his rat tail to play Gaston. Even as the bad guy, it's impossible not to secretly love this guy.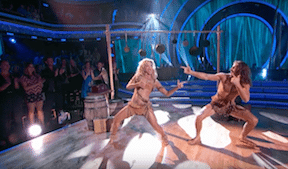 Nyle backflipped into the Samba as his altar ego for the week- Tarzan, and everything that followed was pure gold. Dressed in rags, Tarzan and his Jane, played by the incredible Peta, had everyone beaming. Nyle connects with the story because when Tarzan and his lady first met, they couldn't understand each other. It was all about the body language, and Nyle's dance communicated just that. This unstoppable duo earned a 34/40. We even got to see them play with some pots and pans. Definitely one of the most fun dances of the night!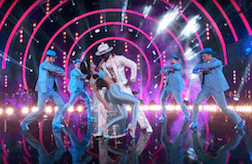 Antonio brought the heat to make it into Princess Jasmine's heart. This modern day take on the beloved Aladdin looked a little something like this: a sleek jazz number, Sharna in a killer Jasmine costume, and a group routine with pro dancers that was so good it made us second guess if Antonio doesn't dance for a living, after all. These two got a very deserving 35/40!
As for eliminations…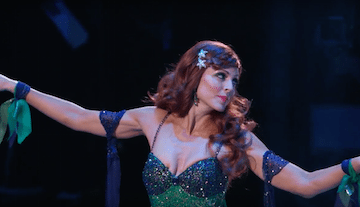 Marla and Tony danced their last waltz, The Little Mermaid-style, as Ariel and her prince. We hate to say goodbye to one of our favorite pairs, but we're so glad they got this last dance in! They did one of our favorite childhood stories justice. We'll miss you!
WHAT A NIGHT!
We can't wait until next Monday! Tune in to ABC at 8pm/7pm central to see your favorite stars on Dancing With the Stars: Season 22.
Below is a video of this blog translated to American Sign Language:
What'd you think of Disney Night?! Do you agree with Marla's elimination?
Fill us in below! We want to know what YOU think!