Ballroom Dance Competitions are a ton of fun– the beautiful dresses, the creativity that goes into each and every dance, and the excitement of the awards! But before you can strut your stuff… you've got to look the part! 💃💫
For competitors, makeup is arguably one of the most important parts of the preparation process (apart from practicing their routines obviously). Makeup for ballroom dance competitions is a complex matter, different dance styles call for different makeup looks, and the ballroom dance judges take grooming very seriously.🕺🏻
Fear not! We've broken down the basics of ballroom dancing makeup for you! So watch the video and read our tips and tricks below!
Makeup by: Ivonne Benavides @ivonnebenavides_  @makeupbyivonne
💄Make sure your makeup is long lasting and sweat/waterproof 
Invest in a good waterproof primer to use as a base for your makeup. Think about it, you're going to be tearing up the dance floor for several hours and are expected to have perfect makeup throughout all of your heats.
You're going to want to LOCK.👏 IT.👏 DOWN.👏
The same tip applies for eyeliner and mascara, get waterproof versions to make sure you don't end up with half of your makeup running down your cheeks halfway through a jive!
💅 Pro Tip: If you are using fake lashes, add an extra coat of lash glue once you've placed your lashes onto your eyes to make sure they don't come flying off mid-twirl.
💅 Pro Tip: Whether you are having your makeup done or doing it yourself, keep in mind that competition days can be long so we suggest keeping a few things with you & refreshing throughout the day. Keep some blotting paper, powder, and eyelash glue along with whatever lipstick shade you are using on hand for quick touch-ups between heats!
💅 Pro Tip: It is a great idea to use a setting spray once you have your makeup application. One of our favorites is "all nighter" from urban decay!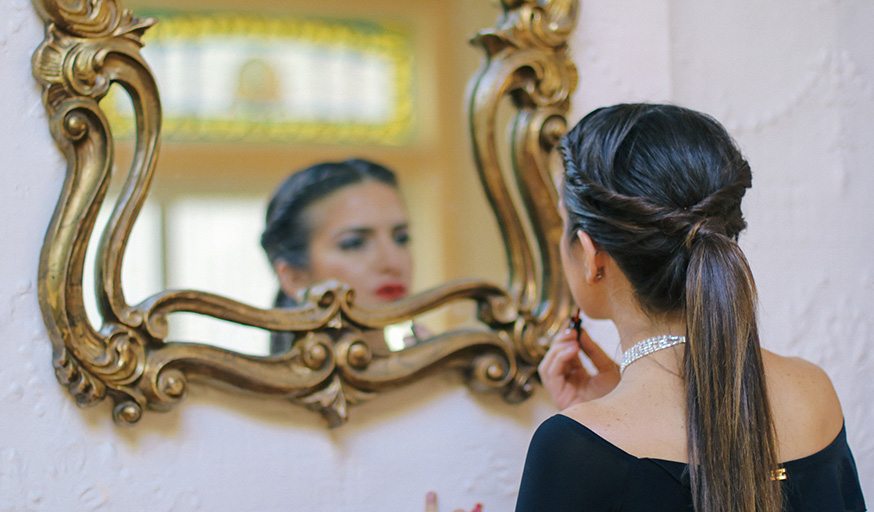 💄💄 Accentuate your facial features 
One of the reasons why competition makeup is so tricky is the lights!? They are necessary (for the judges) but they tend to wash out dancers on the floor–this is why dancers fake tan before competitions.
Keep in mind that the lighting you use to do your makeup will likely be much softer than the harsh lighting from floor lights. Ballroom competition makeup is not meant to be subtle. Ballroom dancing is all about expression and emotion–the judges and audience won't be able to see that if your facial features don't pop!
Here's how:👇
💅 Contour & Highlighting: Use a matte, cool-toned, bronzing powder to emphasize your cheekbones, place it in the hollow parts of your cheeks and on the sides of your nose. For a highlight, use a shimmery white/eggshell powder and place it where the sun naturally hits your face (tops of cheeks, bridge of the nose, the tip of the nose, cupid's bow).
💅 Fake eyelashes: There is no better way to make your eyes pop from far away than with some fake lashes. Keep in mind that the longest lashes are not always the best. Use lashes that make your eyes look bigger.
💅 Dramatic Eyeshadow: Subtle is not a word that would be used to describe ballroom makeup. If you're feeling adventurous try bold eyeshadow shades, use a hint of glitter- it's your time to shine. But keep in mind that dramatic makeup doesn't mean you need to have an eyelid full of black/dark colors!
💅 Bold Lip: For a rhythm or a social dance, you could go for a bright red or pink. For standard, maybe a darker red or plum depending on the color of your dress.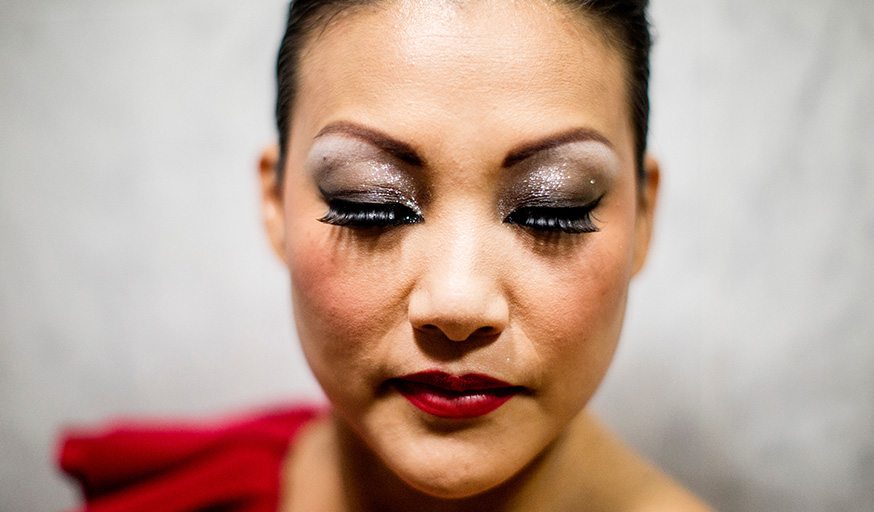 💄💄💄 Coordinate your overall appearance (dress, shoes, hair) 
Once you get to the makeup stage, you will most likely already know what your dress and accessories look like. 👗 💫
You want your makeup to compliment what you're wearing if you are wearing a bright dress (orange, yellow, red, lime) you may want to go for grays and blacks for the eyeshadow to balance it out. If your dress is a more wearable shade (like navy blue or emerald..) feel free to choose that as your lid color!
You can also match your lip color to your dress (stick to reds, oranges, pinks, plums), ballroom dancing remains fairly conservative so I would advise you stay away from a bright blue or green lip color. 💋
Even though you are trying to achieve a dramatic look, your makeup should enhance your overall image. Use colors/shades that work best on your skin tone. There is no "right" makeup so what looks good on someone else, may not work for you. We encourage you to try makeup ideas prior to a competition so that on the day of you look & feel your best! ✨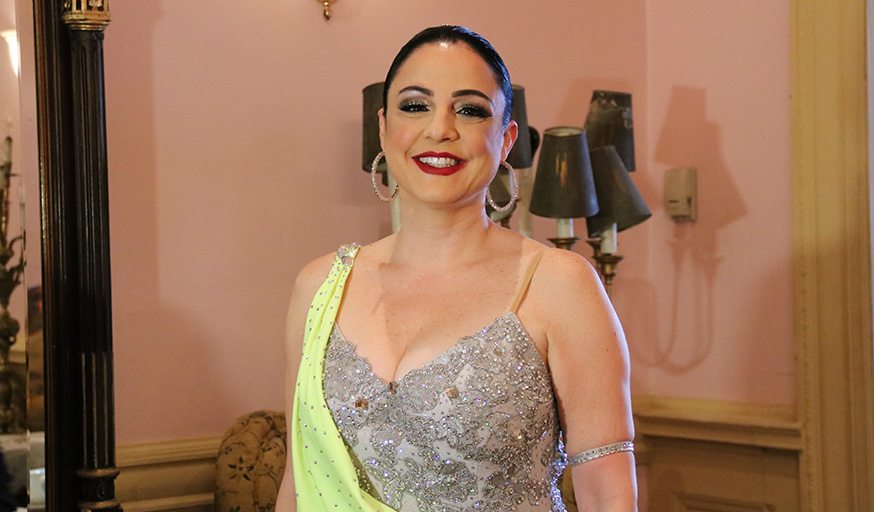 If you know of any amazing tips comment them below! 👇
Don't forget to share with your dance friends!🤗