Meet Eyne Palacios and Amanda Merritt, two of Dance With Me Austin's talented and dedicated instructors and professional dance partners. Their lifelong love for dance has opened them up to incredible opportunities that have allowed them to share their talent and skill with others.
Eyne Palacios
Meet Eyne, Dance With Me Austin's talented and dedicated instructor and client experience coordinator. For Eyne, Dance With Me has not only honed his dancing skills but also allowed him to grow and make an impact on others.
Eyne's love for dance began at a young age when his mom signed him up for a ballroom dancing program in his hometown of Brownsville, TX. He quickly fell in love with the art of dance and began competing. After college, Eyne joined Dance With Me Fort Worth and later moved to the Austin studio. Over the years, he has become an integral part of the #DWMFAM.
But Eyne's story isn't just about dance. When he's not teaching, he's tuning up one of his cars or playing soccer, which has also been a long-enjoyed sport for him. Eyne loves all kinds of music, but he especially loves listening to music in Spanish and music that gets him dancing. He's a man of many passions, and his love for dance and other hobbies has given him the opportunity to meet new people and learn new things about himself and others.
"Dance With Me has given me opportunities that I hadn't even imagined prior to starting with the company,"
For Eyne, Dance With Me has been a life-changing experience. It has given him the opportunity to travel the country to compete and perform, to teach others and share his love of dance, and to be surrounded by a community of like-minded individuals. Eyne's love of dance and time at Dance With Me has blossomed his career into more than he imagined.
Amanda Merritt
Amanda Merritt is an amazing Dance With Me instructor and Eyne's professional dance partner whose love for dance knows no bounds! From her hometown of Trophy Club, TX to the vibrant dance scene of Austin, TX, she has been captivating audiences with her passion and talent since day one.
She started her dance journey at the tender age of two and quickly fell head over heels in love with the art form. Training in ballroom, tap, jazz, ballet, contemporary, and hip hop, Amanda's love for dance has grown with her, becoming an integral part of her life. She can't live without it!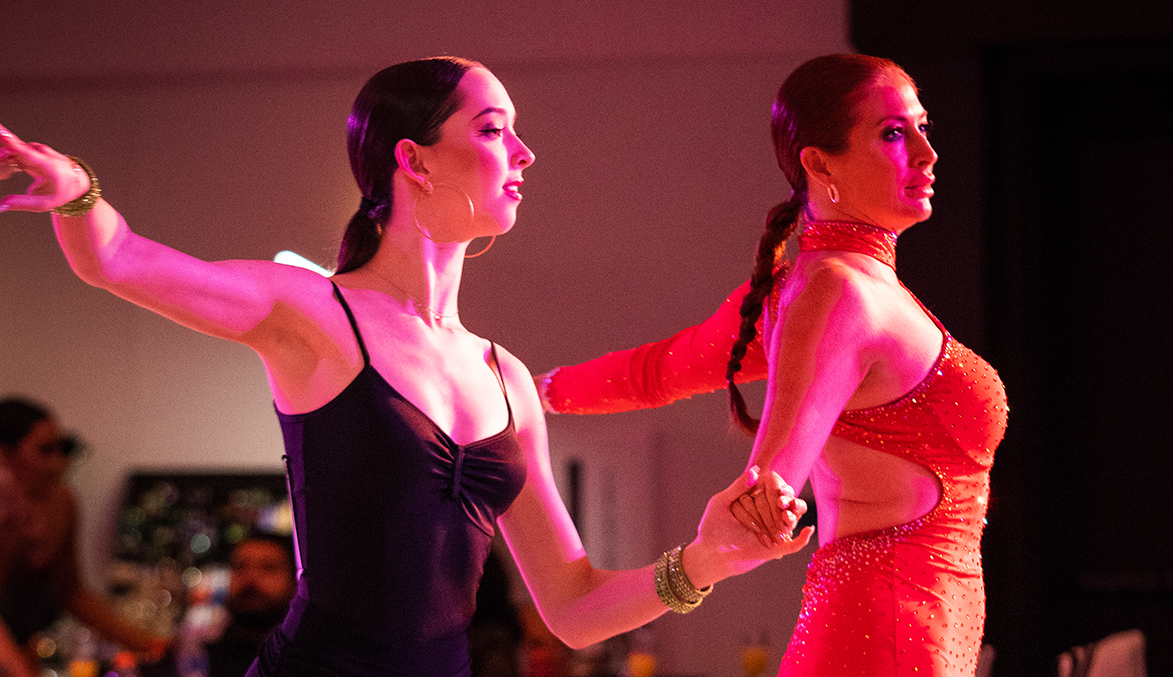 When she's not dancing, Amanda is a true adventurer, always seeking out thrilling experiences. From trying new restaurants to bowling, exploring art museums, and playing pool, she knows how to have a good time! With an eclectic taste in music, Amanda enjoys both the latest Indie/Pop and R&B hits from artists like Harry Styles, BTS, SZA, and Daniel Caesar, as well as the timeless classics of Frank Sinatra, Nat King Cole, Patsy Cline, and Billie Holiday.
Amanda joined the #DWMFAM in 2022 and her passion for dance is unmatched. Amanda has been teaching dance for many years, starting at the age of 13 and teaching to young kids. Now, she shares her knowledge and love for dance with her students and staff at Dance With Me Austin!
Eyne and Amanda have nurtured their passion for dance since a young age which lead them to remarkable opportunities at DWM and we cannot wait to see what else awaits in their careers!