THE MAGICAL WORLD OF DISNEY TOOK OVER DANCING WITH THE STARS THIS WEEK!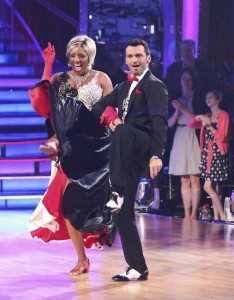 What an amazing show it was, and so entertaining to watch our stars dress the part of different Disney characters as they danced the night away comfortably back with their original partners.
Although the spirits were high, it was elimination night, and all the couples were anxiously waiting to see if they were going to dance another day on Dancing with the Stars.
We soon found out that only two of our three boys were safe. Unfortunately, Tony and his partner NeNe were in jeopardy.  Come on America! The Dance With Me Family misses Tony, but we are not ready for him to come home just yet!
On a more cheerful note, singer, songwriter, actor, radio personality, and former teen idol Donny Osmond was nice enough to join DWTS as a guest judge for the evening adding quite a bit of flair to the panel.
Erin Andrews welcomed Donny back and mentioned how he's had a long history with Disney that many people may not know about.
Donny explained, "Well, Walt Disney himself discovered my brothers, and so I'm in show business because of Walt Disney."
This was an exciting night for Dancing with the Stars being that we got to see all the Stars reunite with their original Pros. Some were thankful to be back, while others seemed to have a slight attitude change, as you will find out when you continue reading.
First to reunite out of the Dance With Me Family were Valentin Chmerkovskiy and Danica McKeller!
When Danica and Val met in rehearsal, she said, "I really had a lot of fun with your brother.  I felt bad, because I didn't think that Maks phoned it in. He really wanted me to learn how to just relax and not worry about the details and just have fun. I have mixed feelings about it honestly because I like details, and you like details. That's why we are a good match."
Quickstep was the dance choice for the evening, which excited Danica because she always loved that particular part of the Quickstep when couples leap together across the floor.
While teaching Danica that very part of the dance, Val was impressed with how rapidly Danica was learning the choreography and how relaxed she seemed to be as opposed to the previous weeks.
"This is what Maks told me about that. Just do it.  Don't think, just do it, and I wasn't thinking that much", Danica excitedly explains to Val.
Did it really just take one whole week with Maks to instill this new sense of confidence in Danica?
Val goes on to say during the interview, "I think Maks has rubbed off a little bit on Danica. I think she's turned into a self-centered, egotistical, completely irrational, emotional bitch. Thanks Maks!
LANGUAGE VAL!
VAL AND DANICA PERFORMED THE QUICKSTEP TO 'BE OUR GUEST' FROM BEAUTY AND THE BEAST.
Danica dressed as the beautiful Belle and was ready to show off her new and 'Maks-improved' self with Val dressed as a much SEXIER version of the Beast.
The performance was rich with animation and although additional characters were added to recreate the scene in Beauty and the Beast, it was difficult to take your eyes off Danica and Val as they quickstepped across the floor with grace, elegance, and poise.
Before they finished, Bruno Toniolo was already out of his seat yelling at the top of his lungs.
"Baby, Baby, you've tamed the Beast! That really was a deliciously tasty feast for the eyes and the technique, your improvement is incredible.  The finish, the hold, the frame, the bright personality, performance level…STUPENDOUS!"
Carrie Ann Inaba was also out of her chair calling Danica over.
"Danica, come here.  That was so good! I feel like your mom. I'm so proud of you. I know how much this competition has meant to you, to be here, and it was just…you were gorgeous. It was so wonderful, my gosh. The line was fantastic. You guys had a beautiful hold. Everything you matched perfectly. It was like watching it come to life. It was like my own version of Beauty and the Beast just for me!"
Of course, Len Goodman would not be who he is if he didn't give a little criticism…
"Everything Carrie Ann said, plus you lost body contact a little bit, but it had speed, it had control, flare and care. Danica, I'm telling you, you are a fantastic dancer."
Lastly, Donny Osmond said, "Danica, I was hoping that I would like this because I actually played Gaston on Broadway, so this show means a lot to me and despite the fact that Val phoned it in tonight, both of you guys knocked it out of the park. I loved it."
After fantastic reviews from the judges, Danica and Val headed upstairs to speak with Erin Andrews as they waited for their scores.
Erin said, "You are getting props all over the place. Your partner just said that's the best you've ever done.  Carrie Ann's giving you hugs.  Len's saying fantastic job.  Why did it all come together tonight? Miss Belle…"
Danica, out of breath from excitement, said "I don't know.  It was a lot of work this week but we had so much fun, and I love Disney, and I love this dance, and I love this song and I love the dress."
Erin turns the attention to Val and asks, "Did you get lessons this week about how to be a beast from your brother?"
"No! No, no, no, no… she tamed the beast with love and care, and you know she missed me so much it was a pleasure to be back with Danica, and you know I'm glad that she had a beautiful performance."
Well, Val, although Danica might be giving your big brother a lot of credit for letting her mind wander a bit, we know the foundation of her amazing dancing has come from you, and we are all proud of the progress she has made and how far you have brought her in this competition.
Danica and Val received a combined score of 39!
After leaving this couple on a high note, we move on to NeNe Leakes and Tony Dovolani's experience together after the big switch…something I don't think any of us were expecting.
NeNe and Tony would be performing a Foxtrot this week to the song 'Cruella de Vil' from101 Dalmatians.
NeNe begins by explaining how they must entertain the audience with their Foxtrot this week.
Reflecting on her experience with Derek, she says, "Me becoming a character is a strong point of mine. So, Derek had the ability to do that because of the type of dance that we were doing.  We could get into character.  We could do different stuff."
Although Tony was happy with her last performance, he tried to explain how last week's dance had no rules and this week's dance is jam packed full of them.
NeNe, who seemed to play a bit of the diva card, was being a little difficult while Tony taught her the choreography.
"I wanted to be able to go back to Tony and be like, oh my gosh, let me show you, Derek taught me this or he showed me this, and oh no…I couldn't do that."
During the interview Tony explained his feelings about how the switch impacted what seemed to be a great couple.
"Obviously there was a little bit of tension. I think the switch up hurt us a little bit because it's almost like it put a road bump in the middle of our road. I don't think anyone wants to see their partner dancing with somebody else. Jealousy comes in there, you know, then insecurity steps in.  It makes it a little bit awkward."
The segment ended with NeNe walking out of rehearsal because she didn't want to deal with Tony's attitude.
Well, Miss NeNe, if I may say so myself, although we love you, Cruella de Vil might have taken over your sweet heart this week.
After that intense rehearsal, nobody knew what to expect when Tony and NeNe stepped onto the dance floor. Would the tension help or hurt their dancing?
When the music went on, NeNe started stomping across the stage as Miss Cruella de Vil and let me tell you…the TENSION HELPED.
Throughout the entire dance, NeNe turned that diva attitude from a negative outlook to a positive light that was shining bright throughout her entire performance.
Dancing freely with no rules can be fun, but to be able to develop such a strong character with so many guidelines and rules was truly a challenge and NeNe overcame it and danced a beautiful Foxtrot.
Donny said, "NeNe, you owned that dance floor! This is called Dancing with the Stars. We should change the name to Dancing with NeNe.  I loved the transitions. I've never seen anybody ever work their hips like you, and then you went into that hold.  It was like hot lava and then you went to cold as ice.  It was fantastic."
Bruno was next, saying, "Oh NeNe, you mean, mean, mean and nasty girl!  A touch of evil always works, always works. You put some bump and grind into the Foxtrot, but you never lost the style. It was incorporated so well in the choreography and it suited your personality. Wonderful!
Carrie Ann followed suit and complimented Tony and NeNe for their wonderful performance.
"NeNe, I hate to say it, but girl…you can rock the villain! Okay, because you were playing the villain like nobody's business. Cruelle de Vil ain't got nothing on you. Tony, your best choreography ever I think for you two.  The switch up…NeNe the switch up was the best thing that ever happened to you.  I know you almost killed each other, but look at the difference."
Although Carrie Ann meant well and complimented Tony over and over again for his fantastic choreography, Tony didn't seem to agree that the switch up helped their performance.  He seemed almost upset that they showed all of that footage on tape because he later explains that was only a small part of their rehearsal and it was certainly not the motivation behind the characters they played in their Foxtrot.
Len was last to comment and said, "Sometimes you think you want a divorce and you realize the folly of your ways, and I tell you that you two are a match made in dance heaven. You captured the character of the dance.  It was feisty, it was fun, I just loved it, and for me…your best dance."
How could they not receive positive reviews across the board?  There is no way anyone could disagree that this performance was their best thus far.
When Tony and NeNe headed up to the balcony, NeNe seemed to be very emotional as she tried to hold it together.
While they waited for their scores, Erin asked her, "Look, it's week 5.  We've all been there, haven't we? You, you end up, you have your ups, you have your downs, and then you get out there. You look like, emotional.  What's going on?
With NeNe not able to respond, Tony took over and said, "She's just happy. That's not what happened throughout the whole week.  We love each other and every couple has a little tiff, and then they make the most of it…but the truth of the matter is we love working with each other.  We enjoy each other.  Please vote us in because we love it. We want to go all the way to the end."
NeNe and Tony received a combined score of 36, which really lifted their spirits after a bumpy week.
WATCH NENE AND TONY DANCE THEIR FOXTROT THIS WEEK TO THE SONG 'CRUELLA DE VIL' FROM 101 DALMATIANS:
Lastly, it was time for Meryl and Maks to hit the floor after we watched Maks walk around half-naked seemingly – for the first time in the history of DWTS – acting shy to be showing off so much of his body.
We see Maks and Meryl share a long hug in rehearsal as Maks said, "And all is right in the world."
The Jungle Book was the Disney theme given to the couple this week, and they were to perform a Samba.
When trying to figure out what to do with this dance, Maks goes on to explain that Meryl looks more like Mowgli than he does..meaning she looks like a small 11-year-old boy! It's okay, Maks.  We know you were just being playful.
Maks goes on to say, "To do a Samba to Jungle Book is a little bit weird.  Samba to me is very sexual, so for me to do a comedy thing is never really my forte."
If this is true Maks, then where do all of your daily witty, sarcastic comments come from?
When it was time to put his comedy skills to work, Maks and Meryl rocked the house with their Samba. From start to finish they were together as one and did not skip a single beat.
Earlier in rehearsal Maks mentioned how Meryl seemed to rekindle the fire in him to dance and it showed in the ballroom that night.  Maks is popular for his bad boy attitude; however, week after week Meryl is revealing a completely different side of Maks that we are all excited to see.
Without a doubt, all of the judges were impressed and felt the same way about Maks' new attitude.
Carrie Ann was first and said, "I'm a little puzzled because when you guys dance you actually dance like you are part of one body.  It's absolutely insane. I've never really seen Maks dance so in tune with somebody. There is such a nurturing, I don't know, feeling in this relationship. Maks, you're always great, but this here…there is something very special here, and I thought your technique was fabulous and just fluid."
Len was next to comment "Well, we have Meryl, we have Maks and we have monkeys… you know, what do you want out of life? A 'wamba of a Samba', touches of Lindy Hop in there…it was great entertainment and terrific. Well done."
Donny said, "You guys from the get-go have set the bar so high, except Maks, you have to tone it down a little bit so we can watch Meryl a little bit you know. That was just thoroughly entertaining, thoroughly entertaining."
Lastly, Bruno states, "Jungle Book?  I call it more Jungle Fever.  I think half of the nation is going to feel very, very hot.  Actually, Meryl, nothing to do yet, can you just step over for a second?  It really was a wonderful, wonderful dance. I agree with everything the other judges said. Thank you Maks for the eyeful."
With not a bit of criticism, Meryl and Maks head over to speak to Erin.
Erin said to Meryl, "You described Maks as thoughtful, giving, and nurturing. Probably one of the first times in 18 seasons someone has said that. But I love what Carrie Ann said, you're so in tune with him, and she hasn't seen anyone like that before, nurturing, you guys dance as one. What have you done?"
Meryl goes on to tell Erin how she and Maks have just developed, and of course Maks interrupts and swears Meryl beats him!
It's obvious that Maks and Meryl share something very special – a dance connection that none of us have seen yet on DWTS – and we are all excited to see what else they have to show us the rest of the season.
Meryl and Maks received a combined score of 36!
After all the Disney cheer, it was time to get down to the elimination portion of the show that ended with Tony and NeNe being safe! Sadly, we had to say goodbye to Cody Simpson and Witney Carson. These youngsters did their best, and we'll miss those fancy moves and moonwalk waltzes from Cody.
That's all we have for this week's recap on Maks, Tony, and Val from Dancing with the Stars.
Good luck next week boys. The DWM FAMILY and all of your fans are rooting for you!
MEMORABLE QUOTES OF THE NIGHT
"The EYEFUL tower of Chmerkovskiy" – Tom
"This is au naturel body sparkle…he was born like this I think." – Meryl
"I think Maks has rubbed off a little bit on Danica. I think she's turned into a self- centered, egotistical, completely irrational, emotional bitch." – Val
"He was an 11-year-old boy. I'm just saying, I look like what Mowgli would look like if he was on steroids." – Maks
Scores of Season 18 – Episode 5
| | |
| --- | --- |
| Drew & Cheryl |  28 |
|  Charlie & Sharna |  37 |
|  Danica & Valentin |  39 |
|  Amy & Derek |  37 |
|  Cody & Witney |  34 |
|  NeNe & Tony |  36 |
|  James & Peta |  40 |
|  Meryl & Maksim |  36 |
|  Candace & Mark |  35 |