RELIVE YOUR FAVORITE CLASSICS ON FAMOUS DANCES NIGHT
We all have our go-to movies. The ones with that famous dance number at the end that we're just always going to be a little obsessed with.
Or that music video we secretly wish we were background dancers for. Sound familiar? Guilty.
On week 6 of Dancing With the Stars: Season 22, the stars recreated iconic dances that have swept us off our feet time and time again.
From Austin Powers, to 'NSYNC, to a green Jim Carrey in The Mask.
We have your best moments lined up…check them out!
YOU'VE JUST TAKEN A GREAT STEP TOWARDS THE FINALS.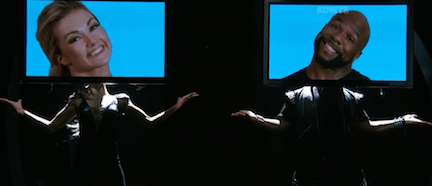 Wanyá and Lindsay recreated 'NSYNC's iconic 2000 MTV VMA performance to "Bye Bye Bye'. All we can say is their jazz number fully lived up to its glory. Don't know if you guys noticed, but Wanyá was in his zoneee. The outfits, the moves, and the vibe were all up there. He raised the bar with this one, earning a 10 from BOTH Carrie Ann and Bruno. All-in-all, this pair walked away with a 29/30. 6 weeks in and the competition's getting fierce.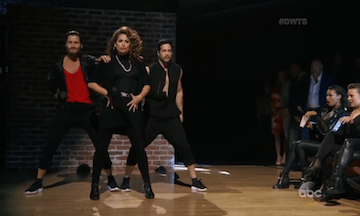 Janet Jackson changed the game for women in music, and last night Ginger Zee tapped into the fierce and powerful lady she is to pay tribute to that. Dancing a sharp jazz number to Jackson's "Nasty", we saw Ginger own her 7 boys and show em' who's boss. "Don't call [her] baby," or you'll get knocked out too. It seemed like our girl Ginger really got into her role- Val actually had to warn her "that's too much hump" during rehearsals.24/30 for this badass duo.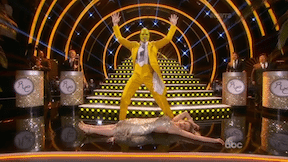 Before we get into it- major shoutout to the costumes for this number. Nyle and Petaevoked Jim Carrey and Cameron Diaz in The Mask to the dot. The iconic green mask even made a return! Their quickstep embodied all the quirkiness and energy we'll always love about this original scene. The judges found the two out of sync at times, but all-in-all there was no question that they put on one show! 25/30 for #TeamRedefiningDance.
THERE IS NOTHING ABOUT THAT DANCE I DIDN'T LIKE.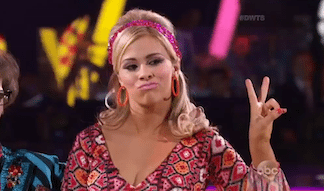 Paige and Mark delivered a groooooovy jazz number as they danced the opening scene to Austin Powers. We had it all: the hoop earrings, the floral print, the classic blue suit, AND a hilarious wig and mask on Mark that had us doing a double take. It was like we we're in the 60's all over again. We could tell these two loved every second of it. Not to mention that the judges completely raved about this fun and hilarious performance. This hip duo earned a 28/30.
AS FOR ELIMINATIONS…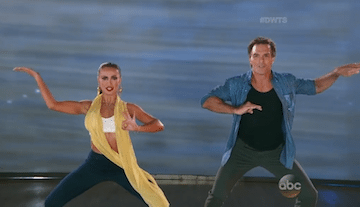 We said goodbye to the former NFL quarterback, Doug Flutie. His last performance killed it though! Doug and his partner Karina danced Bollywood to Slumdog Millionaire's famous "Jai ho". Glad to see he had a great last night!
We can't wait until next Monday! Tune in to ABC at 8pm/7pm central to see what your favorite stars have in store on Dancing With the Stars: Season 22.
What'd you think of Famous Dances Night?! Which pair was your fave?
Fill us in below! We want to know what YOU think!