WATCH HOW STEPHANIE FOUND HER CONFIDENCE, AND READ ON…
SWITCH-UP NIGHT CAUSED QUITE THE STIR!
So here we are, 5 Weeks (halfway) into Dancing With the Stars: Season 22. Our stars are finally comfortable with their partners and are getting the hang of how this works. It's all smooth-sailing from here on, right?
Wrong.
This week, the stars were re-matched with new partners based on YOUR votes (sit tight #TeamGinandJuice fans- it's only for one night).
Our new pairs wasted no time getting to work…and it showed!
They brought their A-game and we finally (finally, FINALLY), saw that first 10 of the season we've all been craving.
TIME FOR AMERICA'S SWITCH UP!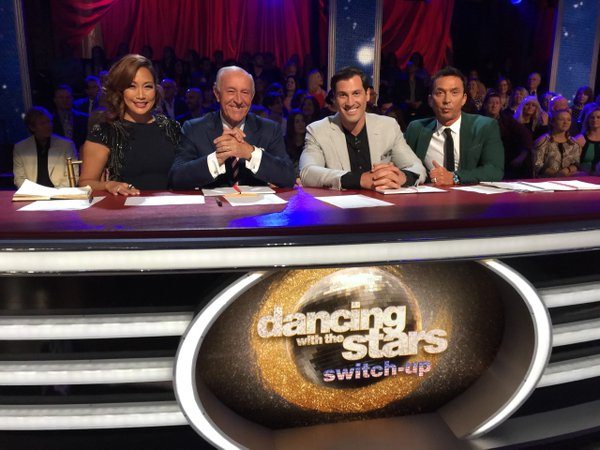 And with a guest judge appearance by (drum roll) the one…the ONLY…Maks Chmerkovskiy, the stakes were high.
Check out last night's best moments:
"YOU'VE BEEN TELLING STORIES WITH YOUR BODY YOUR WHOLE LIFE."
We have to start with this one. Nyle and Sharna made a beautiful pair as they waltzed around the fog-enveloped dance floor. Carrie Ann was in tears. Nyle was in tears. Peta was in tears. We were ALL in tears. The judges continued to be in complete awe of Nyle and his natural dance ability. Len Goodman described it as a "total eclipse- it doesn't turn up often, but when it does it's fantastic!" Nyle's performance earned him the first 10 of the season from the usually hard-to-please judge, and scored an overall whopping 37/40.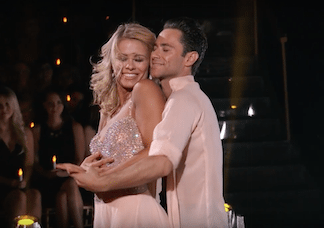 We had no words for Paige and Sasha's beautiful Rumba. Paige glowed in her dress as she glided almost effortlessly across the dance floor. The judges described her moves as "clean, precise, and beautifully toned." Every step, every extension, and every embrace was graceful in its entirety. These two got a a score of 31/40.
LAST WEEK IT WAS LEMONADE, TONIGHT IT WAS CHAMPAGNE.
Now we know- pair Val and Jodie together and you get a steamy, HOT paso doble.These two brought things to another level last night as Jodie showed us a side to her we've never seen! They hit it off right away because they go waaay back…turns out, growing up, Val watched Jodie on Full House as he learned to speak English. The judges raved that this duo was "turbo-charged" and "full of focus", ultimately earning them a 35/40!
With Ginger's yellow, fringe dress and Mark's headband in place, these two were ready to hit that stage! They delivered a sultry salsa bursting with energy and fun. The club scene they created had us ALL dancing along in our seats. There was some funny bickering in rehearsals as Ginger's husband supervised all the shimmying (all in good fun). This lively couple earned a 32/40.
As for eliminations (dun dun dun)…
Gotcha, there were no goodbyes this week! The votes from Week 4 and 5 will be combined to decide next week's elimination, so the night ended on a good note.
We can't wait until next Monday! Tune in to ABC at 8pm/7pm central to see your favorite stars on Dancing With the Stars: Season 22.
What'd you think of Switch-Up Night?! Which pair was your fave?
Fill us in below! We want to know what YOU think!