ON THE 6TH EPISODE OF THE 18TH SEASON OF DANCING WITH THE STARS THE COUPLES TURNED THEIR PERFORMANCES INTO A PARTY!
This week on Dancing with the Stars it was all about those party anthems we all like to rock out to when we're out with our friends.
Changing up the pace a bit from last week, guest judge Redfoo from the well-known singing duo LMFAO joined the judges to add a little party to the panel!
Redfoo says, "I'm looking for something that's gonna rock my socks off, you know what I'm saying? Something that's gonna  – Woo!"
Redfoo was in for a show, because there was not one performance of the evening that didn't rock everyone's socks off.
First to hit the dance floor was Miss NeNe Leakes and Tony Dovolani. Last week we saw how the Switch seemed to impact this couple in a way that left NeNe in tears after the show because she felt that Tony was upset with her after the way she acted.
After assuring her that was not the case and starting with a brand new outlook on their relationship, they headed into this week's rehearsals with excitement.  They wanted to take what they learned from last week and make this week's performance even better.
During Tony's interview he said, "I definitely feel better about my relationship with NeNe, because I feel like sometimes you have to have those moments in order to appreciate what you've had."
Nene went on to say, "It feels great for Tony and I to have reconciled and moved on. I'm so happy that something good came out of the drama."
Nene and Tony performed the Salsa to "Hot in Herre" by Nelly!
Out on the floor with a brand new attitude, NeNe and Tony start their routine in the middle of the crowd with fire and anticipation running through the room.  NeNe was so confident and comfortable it was hard not to love this performance. Oh, and let's not forget to appreciate Tony's bare chest! You still got it, Tony! His attire certainly matched the theme of the song, and it was indeed HOT in that ballroom after their Salsa!
Let's see what the judges thought…
Len Goodman said, "NeNe, you've covered the market. I'm telling you in fun and entertainment, you really have, and you've got yourself right through to week 7, next week. Now, if you want to progress, I'd like you to work a little bit more on your technique now. Be a little bit lighter on your feet, work on the footwork, and mix that fun and entertainment with good technique, and then who knows where you'll finish. Well done."
Bruno Toniolo follows with, "NeNe, one thing for sure, you're one of a kind and you can turn the heat on! I'll tell you the motion…no, no seriously now, seriously, you had a wonderful motion but it was all up here. Sometimes your footing was a little bit shaky but your hips are such a momentum, it's very difficult to keep up with it!"
Carrie Ann Inaba stated, "Nene, that looked like your most comfortable dance. That was finally the NeNe we've been waiting for. You were grinding, you had the thing, I loved the little dance with the hubby.  I think it put you in your groove. I think it wasn't as intense as Cruella week, but I think it was excellent!"
Lastly, Redfoo shares his feeling with enthusiasm! "Yeah, NeNe, you looked like an entrepreneur out there because you owned that! I mean it was getting hot. It was getting hot. I was about to take off my stuff…and you know I'm not here for, you know, technical.  I say technical shmectical, because I don't know that stuff, but that was hot!
It was so nice to see NeNe smiling rather than fighting tears like last week.  This is the NeNe we all wanted to see and this is the team that will make it to the end!
When they headed up to the balcony to receive their scores, Erin greeted them and said, "Look, we saw you get upset last week.  We saw what, people may say you hit rock bottom. People are saying this is the best you've looked. Was this a fresh start for you guys?
NeNe said, "Yeah, sure! It was a fresh start. I mean we had a little tiff, but Tony and I are very much in love." She goes on to say, "I'm so excited and thank you so much, and I will take everything that the judges said. I will work on my technique a little bit harder and I'll show them next week!
NeNe and Tony received a combined score of 33 from the judges.  Although they might not have scored as high as other competitors this week, both NeNe and Tony were proud of their performance, and glad to have rekindled the love between them!
VOTE FOR NENE AND TONY: CALL 1(800) 868-3401!
Next to hit the stage from our Dance With Me crew was Valentin Chmerkovskiy and his partner Danica McKeller.
When Dancing with the Stars began, Danica seemed to be a shy, nervous young woman with her slightly nerdy tendencies. We loved her, don't get me wrong, but seeing the transformation she has made over the past few weeks is amazing and truly reflects how dancing can build your confidence, and overall character.
During rehearsal Danica said, "I think the only reason I am a true contender at all is because of Val and the way he works me. He just drills me, and drills me, and doesn't let me get away with anything. I would have never been able to do it without Val."
Val, proud of Danica's progression, stated, "Danica is really embracing her femininity in this routine…celebrating her body, celebrating her mind, celebrating her spirit."
Danica closes her rehearsal interview explaining her goal for this season of Dancing with the Stars. "One of my goals for this competition was to get more in touch with my womanliness. I thought oh, it was going to be because of all of the hand movements and NO! That's not what it means to be a woman versus a girl. It means having that strength and having that fortitude to say okay, Danica, what are you made of, are you going to stick with this?"
Danica and Val performed a Cha-Cha to "I Wanna Dance with Somebody" by Whitney Houston.  Danica looked far from the little girl she seemed to be at the beginning of the competition, and more like a confident, sexy woman!
Redfoo said, "Yeah baby. Danica, you just put love in the club. I mean that was…that ooh! I mean it looked like you were really in love with him. I mean you were dancing, and you were getting it. I mean…that is what I am talking about!"
Len kept it short and sweet and said, "I'll tell you, that is the best dance of the night so far!"
Bruno went on to say, "You have the playful verve and vivacity of a purring little kitten. Adorable all the way through, and that cha-cha-cha was so difficult, it had so many changes of paces. You did it just naturally my darling. You were on it. You were placed. Great job."
Carrie Ann said, "I always go back to this, but Dancing with the Stars is truly about your own self-journey and when I watch you every week you come back and something is growing, something is growing, something is growing. Today, I swear you are the full blossom. The strength, the woman, the power, the confidence. It's beautiful Danica, beautiful!"
Erin said to Danica, "You mentioned in your package, you know, you're on top of, number two on the leader board. You are excited about that obviously. You two are in jeopardy, but then you hear Len say, 'best dance of the night', Bruno giving you compliments. How did you get through it and not let the jeopardy bother you?"
Danica's response was, "The only way I get through any of this is just to focus on the dance and do the best that I possibly can."
Val goes on to say, "I'm very proud of Danica, and I want to say thank you to her incredible boyfriend, Scott, who's very understanding, and allowed me to dance with this beautiful person."
Danica and Val received a combined score of 36 from the judges!
VOTE FOR DANICA AND VAL: CALL 1(800) 868-3403!
After last week's performance we see that Meryl seemed somewhat disappointed with her results after receiving such praise from the judges.  This put pressure on Maks to push Meryl even harder and do everything he possibly could to bring those tens to the board.
After seeing footage of Maks getting extremely frustrated with Meryl struggling with the choreography, Meryl said, "I think for Maks, he's such a passionate person that I think when he feels like things aren't going his way, he takes on the role of fixing things, and I think that is a role that entails a lot of pressure."
When we watched further, there was a moment in Maks' interview when he seemed to finally put his bad boy image aside and really let us get a view into how he was feeling about the competition.
Maks said, "In the back of my mind, you know, there is a little bit of me that can see this can be the season that, you know, I get to go all the way and I'm just trying to not get sucked into it. I think that was my downfall for the last 13 seasons of the show."  He went on to say, "There is something to be said about the nature of this show…is that it gets to you no matter who you are, no matter how strong you are.  I used to be too proud to admit it, and now I'm too proud not to admit it."
We all have seen a change in Maks, and I don't know if it's because Meryl brings out the best in him, or maybe because after 13 seasons he has finally grown up.  Whatever the case may be, I think we all are feeling the same way and really do see Maks and Meryl bringing the Mirror Ball Trophy back home to Dance With Me!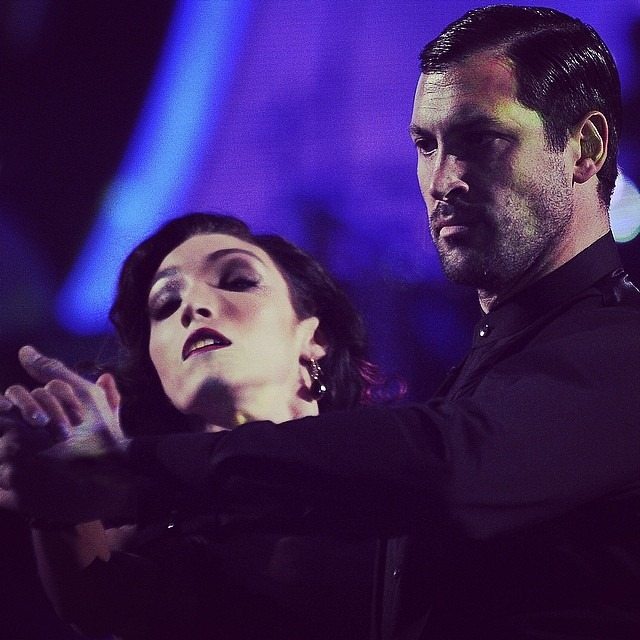 Meryl and Maks performed an intense Tango to "Feel So Close" by Calvin Harris.  This dance was hands down their best performance of the season.  Maks and Meryl were perfectly in sync. It was amazing to see such a beautiful Tango to such an upbeat modern song.  I had goose bumps!
Personally, I think I held my breath for the entire performance with my jaw dropped to the ground and my eyes wide open in awe. I have the pleasure of watching ballroom dancing on a daily basis at Dance With Me Studios, and after that mind-blowing performance, I am so thankful to be a part of such an amazing world…and you better believe I grabbed one of our instructors and hit the dance floor immediately!
The judges were awestruck as well, giving nothing but positive feedback to this couple.
Len was first to say, "That was full of attack, it was full of purpose. Meryl…Maks dances full on. It doesn't matter who his partner is. You're the first celebrity that has been able to match him and keep up with him. Maks, what did me, when you went into a feather step in the slow Foxtrot. That, I'm a cranky old geezer, and I've got to say that was the bit that said this is special."
Fired up as usual, Bruno said, "The woman in black, starring in a spine chilling, totally gripping film noir of a Tango. Len is absolutely right. What was so incredible is it was like a faceoff between two killers, but you never knew who was gonna be on top. Equally matched, equally pushed. The choreography was incredible. The tension in the room, you could, you could taste it, incredible."
The performance was so good, it left Carrie Ann tongue-tied! "Speechless. Meryl, I just have to say something from my heart. There is something so magical happening between you two. I mean this is dance but it is also about life and I have to say that what you are bringing out in Maks, and Maks what you are unfolding in Meryl is something that is mind boggling, and it is truly artistic excellence. Your technique is beyond anything I've ever seen. I watch you and you look like one of our pros. I was like, is that Sharna? What is going on out there? You have that incredible ability.  The partnership, the chemistry…Maks, your best choreography ever."
Redfoo playfully said, "I say E.T. phone home. You know why? Because that was out of this world! It was like you were gliding across the solar system from star to star. It was so magical. It was super. I've never seen anything like that."
After those reviews, Meryl and Maks headed upstairs to speak with Erin when she asked, "You were upset about the 9's. You got all 10's. How does this feel?"
Meryl said, "It feels fantastic. You know, I think that Maks and I, you know, despite having easier weeks, more difficult weeks, you know, we are finding a really fun way to work together, and being able to show that on the dance floor is really cool!
Meryl and Maks received a combined score of 40! Congratulations!
VOTE FOR MERYL AND MAKS: CALL 1(800) 868-3406!
I must take a moment again to compliment Derek Hough's choreography for this week's"Macy's Stars of Dance". Outstanding performance.  It is amazing how ballroom dancing has transformed and molded itself to today's pop culture.  It is fun and exciting and just goes to show you how it is possible to take any type of dance and modernize it!
Lastly, this week we had to say farewell to Drew Carey and Cheryl. Drew, you made it to week 6 and that is something you should be very proud of! We love you and were so entertained by your performances! You will be missed!
Memorable Quotes of the Night:
"Tony is getting his money's worth for his chest waxing earlier this weekend" – Tom
"Is it cold in here? Because both your nipples just popped right now." – Tom
"I say E.T. phone home. You know why? Because that was out of this world!" – Redfoo
Scores of Season 18 Episode 6
| | |
| --- | --- |
| NeNe & Tony |  33 |
| Candace & Mark |  32 |
| James & Peta |  35 |
| Danica & Valentin |  36 |
| Meryl & Maksim |  40 |
| Drew & Cheryl |  32 |
| Charlie & Sharna |  36 |
| Amy & Derek |  38 |
WHAT DID YOU GUYS THINK OF THIS EPISODE OF DANCING WITH THE STARS?
Tell us in the comments below and don't forget to share!